15 best VPNs for Android? This question creates the most confusion because thousands of VPN apps are available in playstore in which, most of which are fake or they need to be fixed in such a manner that we want. Here I will share some genuine and working best VPNs for android that will help you to secure your privacy.
As you know, in today's world, data is most important to secure because everything is in data. You heard of many incidents of data leaks, such as the Facebook data leak. Also, data was leaked by google due to some bug in google plus. So, to secure data, google removed their google plus service as google's reputation. Did you know how VPN works?
List Of 15 Best Free VPN For Android
Let's talk about the best VPN for Android, free as well as free. There is not much difference between free and paid VPN services, as paid services are more secure than free ones. If you think that your data is too necessary, then go through paid services and if you want to use it just for some things, then use free VPN services. As not all free services are poor, some of them provide the 15 best VPNs for Android.
1. Turbo VPN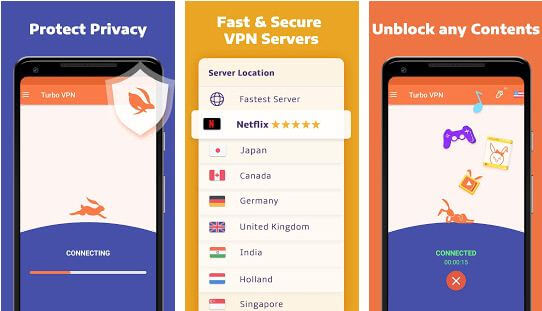 Turbo VPN is a free VPN service provider in which lots of servers are available to use. No hidden charges apply; you can use it almost free of cost. As we know that lots of sites are blocked by IP or country due to some reasons.
Turbo VPN spoofs your IP and provides fake IPs of another country. So that you can unblock these sites as turbovpn provides unlimited bandwidth and no monthly limit, but you will see advertisements in apps because they provide free services. As they earn from ads, they then provide free services.
You can try one of the collections of best VPNs for Android for free. Also, they offer paid services in which you can use some extra servers and also no ads. How to use turbovpn? Simply select the server to which you want to connect, then click on the tap to connect and enjoy.
Pros Of TurboVPN
Offers 100% Free Services
Unlimited Bandwidth With any Limit
Unblock Geo-restrictions then you Can Use
Simple UI
Cons of Turbo VPN
Lots Of Advertisements Showed As it Offers Paid Version
TurboVPN is Registered in China
Not Too Much Secure to Do Important Things
2. Hide.me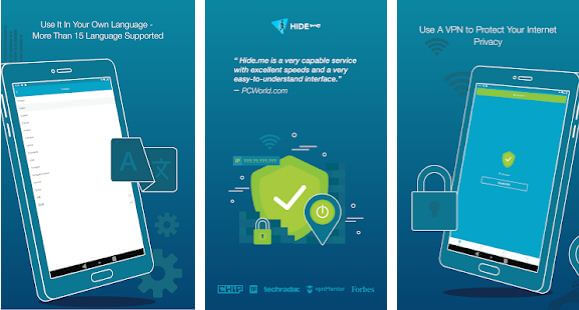 Hide.Me VPN is also a free as well as paid VPN services provider all over the world. Its overall number of users in the world is more than 10 million. You are using hide.me VPN; you become anonymous and unblock restricted sites in your country. Also, you can stream through this VPN, such as Netflix, etc. It not only unblocks websites, but it also unblocks apps such as Skype, Viber, etc.
Pro Of Hide.Me Vpn
Unblock any site or app that you want to unblock
Hide your Identity when You surf on the net and While downloading files from the Internet.
Stream Live Videos And Sports Wherever You are Present in the world.
Cons Of Hide.Me Vpn
Not 100% Free with All Features
3. DNS Changer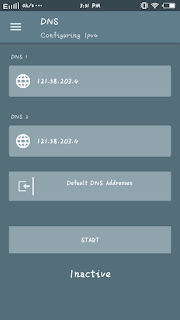 We included this application because it almost works as a free VPN services provider. As it is manually operated, it means if you want to connect your connection from India, then firstly, you need to find the IP address of the server to which you want to connect, then put that IP on the DNS changer application, and then click on connect. Then you successfully connected to that country. So, I say manually.
Pro Of DNS Changer
110% Free No Hidden Cost
Full Access on all Features ( Connect Any Server to any Country but You Need that server IP)
Unlimited Bandwidth
No Speed Cap
4. Opera VPN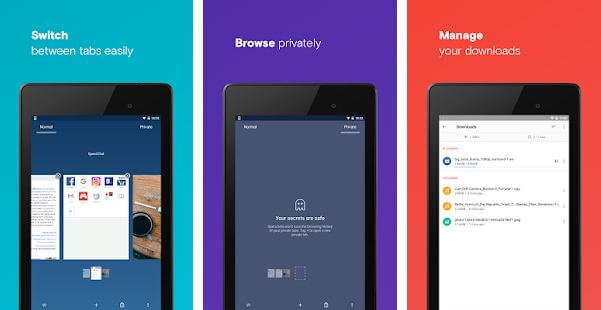 Opera VPN as it is the best VPN for Android to surf on the internet. As you know, that opera is an old and reputed company that provides web browsers. So, this VPN only works under the Opera browser, not all over Android.
If you want a VPN only to unblock some sites that are geo-restricted, then you can use OperaVPN as it only offers this feature; otherwise, you can't unblock apps from this VPN, and also it does not secure your data outside the Opera. You can try this to unblock sites that shit.
Pro Of Opera Vpn
100% Free No Hidden Charges
Unlimited Bandwidth
Simple UI
Cons Of Opera Vpn
Not Work over the Android
5. Hola Free VPN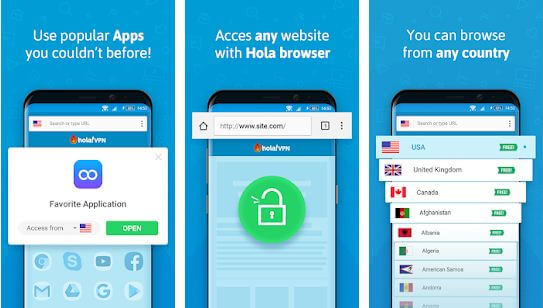 Hola free VPN is a peer-to-peer VPN service provider that works more effectively than others. It is also the collection of the best VPNs for Android. It has 50 million+ users all over the world and it also provides its premium services. In premium services, ads are not showing as well as 24/7 customer support; if you have any problem, then you are directly connected to customer support.
Pros Of Hola VPN
Freedom to View Websites and Applications around the world
Free
Easily Switch countries
Simple UI
6. Express VPN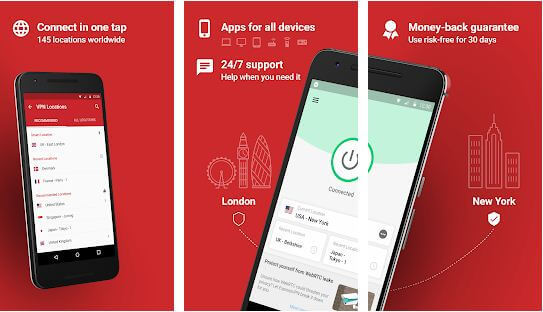 Expressvpn is one most trusted VPN service that offers SSL security, which means your data become encrypted. Also, it features 256 bit-encryption and is one of the most considerable servers in the world of the VPN service provider.
But, they are not free of cost; you need to pay a monthly subscription of $ 7. But you are invested in the right thing as they provide excellent service. You can go play store and can read customer reviews so that you know all about this VPN service.
7. Nord VPN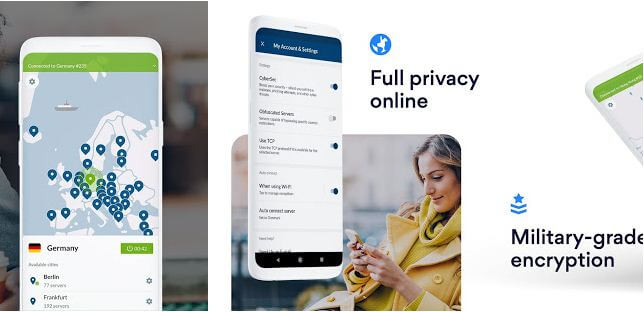 Nordvpn gives the fastest speed for downloading files and also for streaming videos. It has a simple user interface, so everyone can use it. It has extra features like a VPN kill switch and DNS leak protection, but these features are currently unavailable in Android.
Also, this is not free, but it costs less than expressvpn as a monthly subscription of $2.99 in the 3-year plan. So, if you have a low budget, then you can go through this VPN service as it is a good VPN service provider.
8. CyberGhost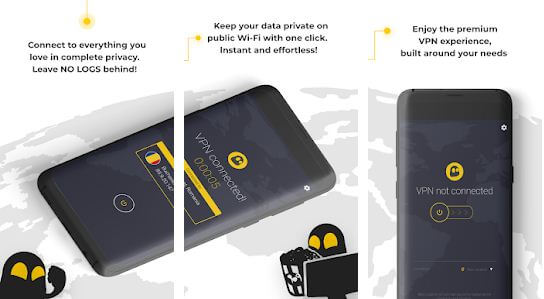 CyberGhost is one of the best VPNs for Android on a low budget. If you think that low-budget products are harmful, then you are wrong, as CyberGhost offers up to 256mbps downloading speed. It is not only for downloading but also works with Netflix to provide better live streaming with a private network.
It costs $2.75 per month, which is almost less than Nordvpn. Buy a small plan and try it; if this VPN satisfies your need, then become a permanent member, as it provides excellent service.
9. Zenmate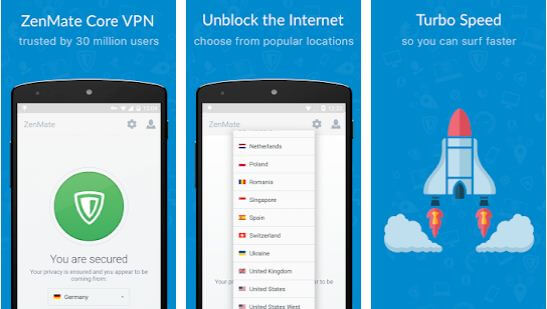 Recently Zenmate provided a 30-day free trial to use their VPN service to know how their services worked. But people only used trial and didn't buy their premium services. So, now they removed their trail services.
As I used their trial services, the fantastic speed and simple user interface were good. Lots of servers are available to connect with only one click; choose server and tap to connect that shit. You can buy its premium services if your need isn't satisfied then they offer 30 days money back guarantee.
10. HMA ( Hide My Ass )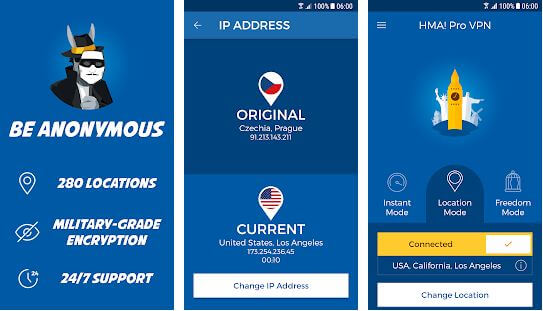 HMA means "hide my ass," you know, through this VPN service, you can hide your ass technically. This means your original identity is safe of protected from the online world. It has lots of servers to connect. Its excellent facilities are you can select the city server under the country server. I also used HMA VPN services, and I like its VPN service.
11. Vypr VPN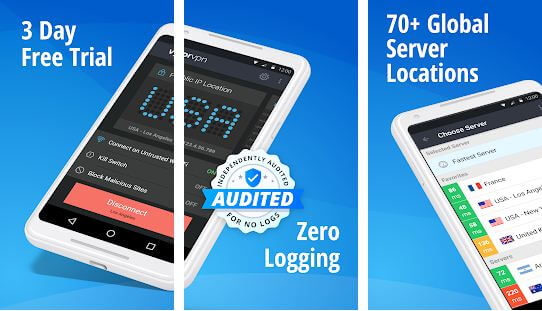 VyprVPN offers a 3-day free trial in which they do not show any ads. They believe that security is more important than others. So, it offers a free trial with no advertisements, which provides 70+ global servers in which 700+ servers with 200,000+ IPs globally.
So you enjoy the flexibility and can switch to another server instantly if the server slows down. As it also provides high speed for gaming as well as streaming. So, you can do live streaming on YouTube or on any platform. Try its free services, then go through premium services.
12. IPVanish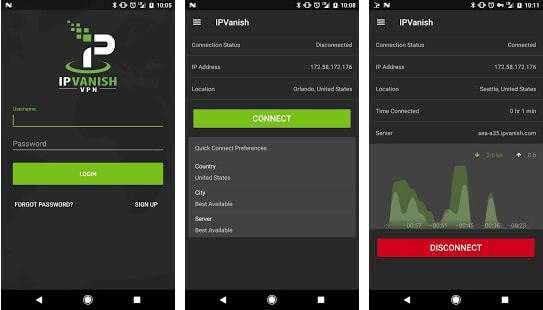 Online data is hard to secure as every site tracks your identity. So, it would be best if you prevented tracking your identity; for this, you can try IPVanish, as it secures your data from being stolen. It also unblocks your speed from your ISP if they limit your speed.
So you can enjoy streaming without buffering. Once you establish your connection through IPVanish, then all your data, emails, files, and almost everything becomes more secure from being stolen, and most importantly, your card details during online shopping as you can try their services.
13. Hotspot Shield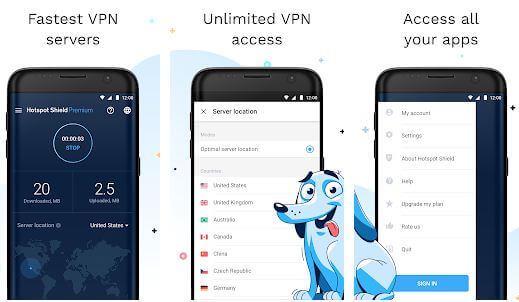 One app two works means it works as a VPN as well as an antivirus. As this VPN scans your apps for any threats, and also it removes malware from your whole device.
It also offers a free version in which only limited features are available. Still, you can upgrade to premium anytime, anywhere, which gives you unlimited features with high speed because it has the most extensive coverage area of more than 20+ countries, including the UK, US, etc. So, you can unblock all geo-restricted websites.
14. Tunnel Bear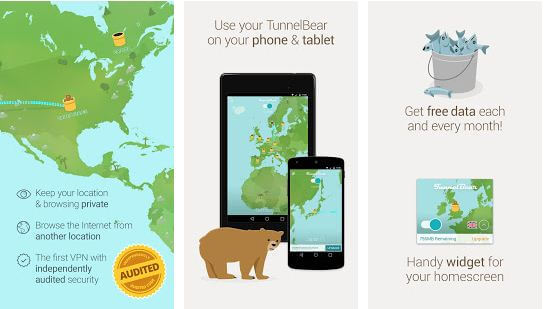 Tunnel Bear VPN is an almost 100% free VPN service provider with lots of servers. But not with unlimited bandwidth; it has a monthly limit of 500 MB of browsing data. You can increase bandwidth by purchasing their premium plans which give you unlimited bandwidth. Its server is located in more than 22+ countries.
15. Open VPN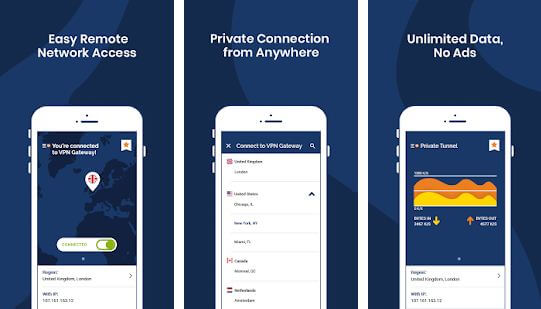 Openvpn connect has 50+ million downloads in the play store. This VPN works in the core tunnel, which means it is more secure. You can try their services free of cost as they offer a 7-day trial in which they will not show any ads. Also, they provide unlimited bandwidth in the trial period. After that, if this VPN fulfills your needs, then you can go to their premium services.
Wrapping Up
Here I pick up the top best VPN for Android. But, I know it is hard to pick up the best one among all of these, as I mentioned more than 15 best VPNs for Android. If you want to use a free VPN service, then you can go through TurboVPN if you want to use it not for too much security. And, in a paid VPN, you have lots of choices because all paid services work well.
Note: If You Have Any Problem Related to This Article then you can comment Below We Will Try To Solve Your Problem.
Thanks for giving your valuable time to our website. If you gain knowledge, then don't be cheap to share it with your friends or on social media.