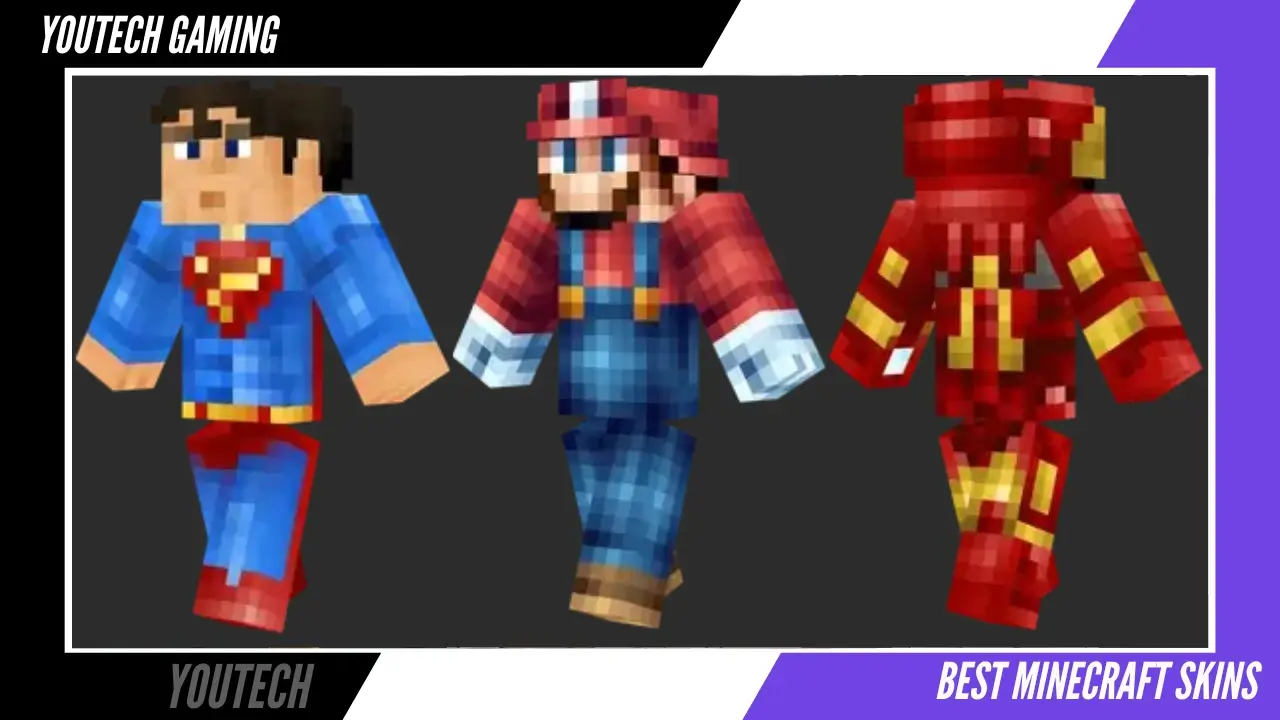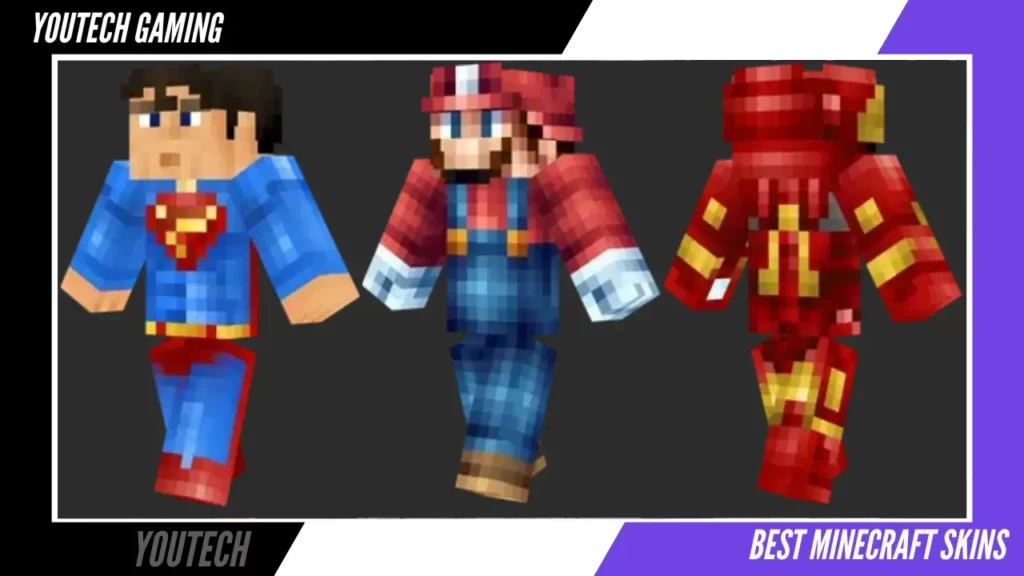 Minecraft Skins are like flaunting stuff, which never lets you get bored while playing Minecraft for hours. Minecraft, which is well-known for its creative features, also enables you to get creative on its interface and also for its playing characters. Minecraft skins can make your character look like a professional, especially while playing with friends. Here are the 20 Best Minecraft skins below, which you might have never heard of before, so let's get started.
20 Best Minecraft Skins Of 2023
Herobrine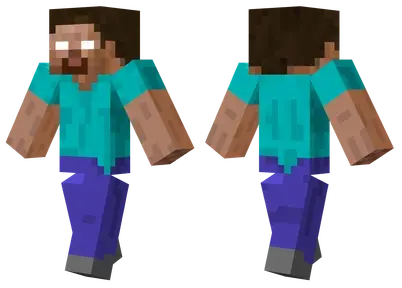 The rumors are that Legend Herobrine is a putative hostile mob found in Minecraft. However, he is dressed up like Steve but has Beaming white eyes. Rumour says that he can gaze at you from any distance while you are moving or feeding pets or doing other things in Minecraft. Thus, having the Skin of Herobrine makes your character looks like a mythical player & your friends will also freak out from this Skin.
Radioactive Herobrine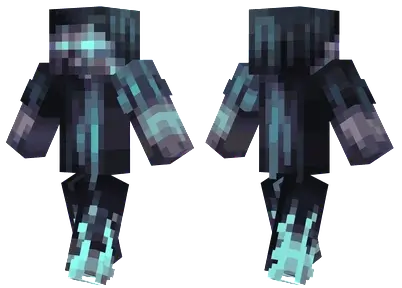 If you think that the Skin of Herobrine moreover looks like a classical Steve-like skin(although it is not), so here is the Skin of RADIOACTIVE HEROBRINE. A Cruel-Deadly version of Herobrine, which is dressed up which a black theme, has a glowing blue patch on the chest and legs & has beaming blue eyes, which make him look FATAL.
Giga Chad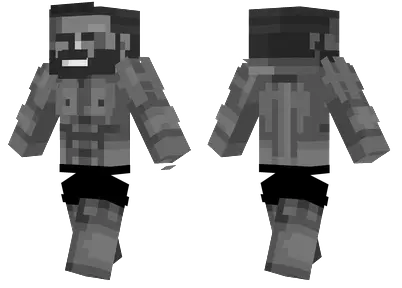 GIGA CHAD is a Personated meme famous on the Internet worldwide. If you've seen this Meme & have liked it, then you might love this GIGA CHAD Meme. A greyish Themed GYM-Guy with Blocky-Abs, muscles, a clean Mustache, and a Rectangular White smile wearing Black shorts makes your character look like a GYM freak.
Superman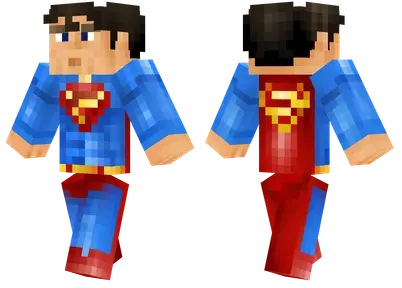 The Famous Fictional character of DC Studios is loved among youngsters, and let's be honest, every fan wants to be like him. If You're a massive fan of him, then here is a skin for you. It is precisely made Skin having every minute detail like his iconic hairstyle, a Superman Emblem print on his chest, a Red Cape on his back, and his muscular look in a Pixelated/miniature way. Your friends will also love it.
Batman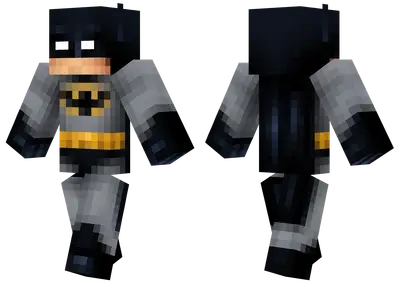 If You're inspired From Dark villain Like stories, then you might love The Skin of BATMAN. The most Anticipated VILLIAN-like character( although he is not ) is very popular among gamers. This Skin features his Iconic Black Suit with a Black Mask, a Beaming-White Eye, a pair of boots, and a muscular appearance. I hope you might love it.
Walter White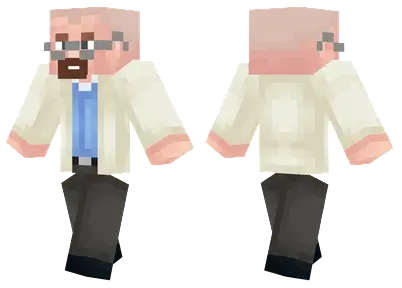 If you have seen the Famous TV Series "BREAKING BAD" & are a fan of it, then you might love the Skin of WALTER WHITE, the main character of "Breaking Bad." A Bald Guy wearing spectacles, a white Lab-Coat over a Blue shirt, chinos & a pair of black shoes. Through wearing this Skin makes you feel like you're ready to cook some precious Potions.
The Mandalorian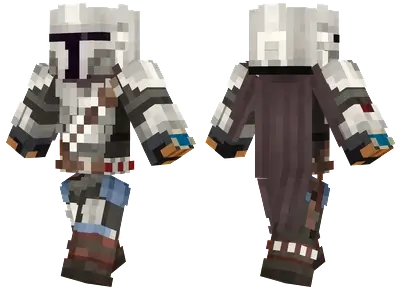 If you are a Fan of STAR WARS and want to merge STAR WARS things into MINECRAFT, here is a skin of THE MANDALORIAN. THE MANDALORIAN is a popular character in Star Wars comprising a Strong Fan-base among people. This Skin of The Mandalorian features its complete armor set, a T-shaped Visor on its Armored Helmet. Wear this Skin and do feel like a Warrior.
Grey Knight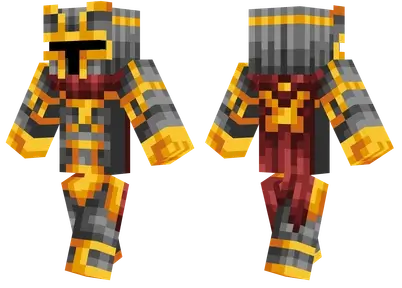 If you like Skin of The Mandalorian and want a similar version of it, then here is a Skin of GREY KNIGHT for you. This Skin features a totally armored Knight Themed with Netherite Grey & Gold labeled throughout its costume, having a T-shaped eye slit-visor on the Helmet and a Brownish Cape on the back.
Wednesday Addams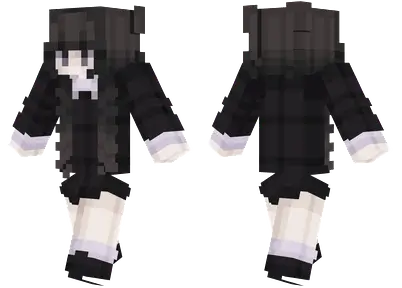 Recently Popular Netflix Series" WEDNESDAY ADDAMS" made Minecraft Creator to Skin of Wednesday Addams for its Fan-Base. This Skin features her Iconic Black dress with a white collar, Black Boots, Hairs styled In two Long Braids, making her look Eerie. You can use this Skin to scare your friends while playing together.
Ash Ketchum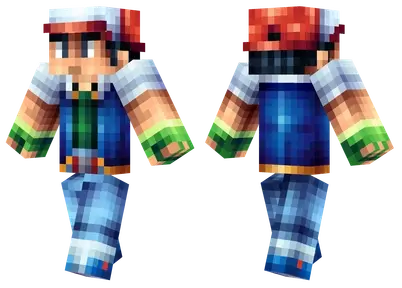 Pokemon which an animation & cartoon game famous among viewers and gamers. ASH KETCHUM is the main character of Pokemon, features his Iconic clothes, a Red & white cap, a sleeveless Blue jacket over a white half-shirt, and blue jeans with Sneakers in a pixelated way thus, If you are a Pokemon fan, you like this Skin.
Gold Queen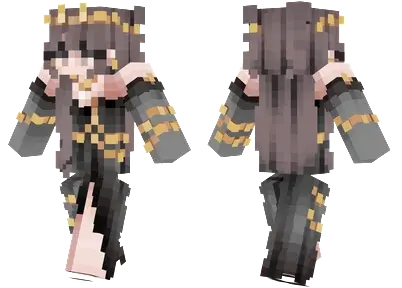 You might have seen this Skin on various streamers & players using it but never know about its name; its GOLD QUEEN skin is used by female gamers worldwide and is very popular among them. This Skin features her wearing a black robe complete with solid gold detailed patches throughout her body having long hairs. Wearing this Skin makes your female character look like an Angel.
Jake The Dog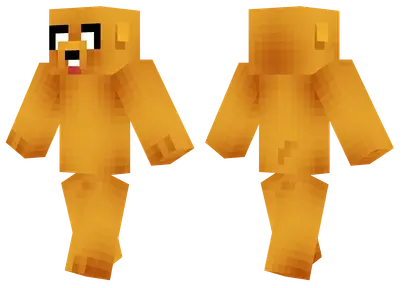 The main character of the animated cartoon "ADVENTURE TIME" is very popular among viewers cause of hir humourous jokes and playful companionship. Its Skin features him as a yellowish-themed dog with a rectangular nose and white eyes. Wearing this Skin makes you feel like a great companion while playing with your friends.
Iron Man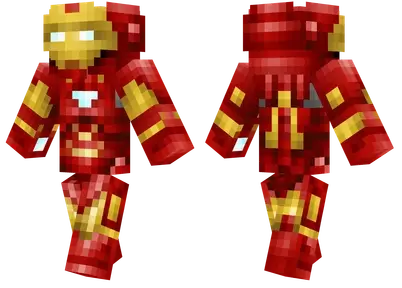 IRON MAN, who is a fictional Superhero, Appeared in American comics produced by Marvel Comics. This classic Skin of IRON MAN Features his classic Red & Gold themed Armor with JARVIS AI Emblem attached to his chest. Wearing this Skin makes your character looks like a superhero.
Powerful Enderman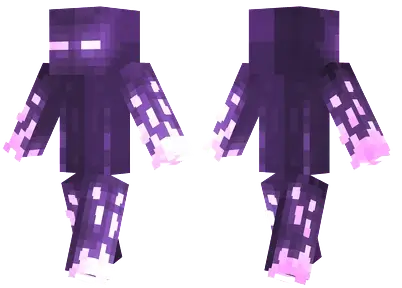 ENDERMAN, which is a Minecraft Mob that can be found in every Biome, is notoriously known for its attack if any player directly looks at his eyes. Imagine this powerful mob in the most powerful Skin themed In Violet color with supercharged Bright pink eyes & pink patches over hands and bodies. Wear this and scare your friends with this Powerful Enderman Skin.
Ender Dragon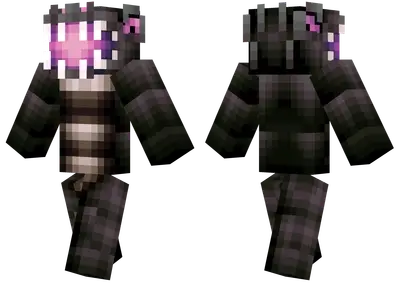 ENDER DRAGON is the most Fatal&Deadly Mob found in the last Biome of Minecraft. This Skin of Ender Dragon Features her precisely what she looks like including his glowing purple eyes, white teeth on face & brown colored Skin. This Skin is replicated in the human character of Minecraft. That's why there is no tail in this Skin, but you can scare your friends with this bone-chilling Skin of Ender Dragon.
Homer Simpson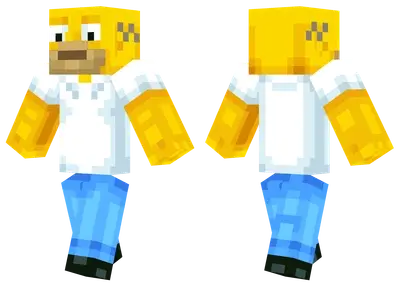 HOMER JAY SIMPSON is a fictional and the main character of an Animation "THE SIMPSON." This Skin features this Bald wearing a white half-shirt with blue jeans and Black shoes. Even though his face may look uneven and pixelated, wearing this Skin makes your character feel like a great companion to your friends like Homer Jay Simpson.
Link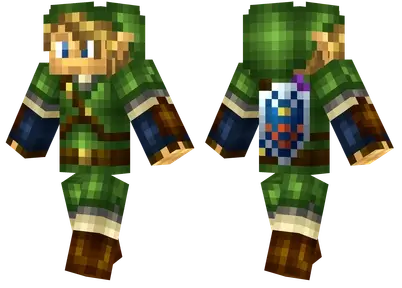 LINK is a Fictional & main character and the production of NINTENDO's video game, THE LEGEND OF ZELDA. NINTENDO Portrayed him as a warrior who protects and fights for Princess ZELDA. This Skin of LINK features him wearing his iconic green armored coat with a brown belt on the waist, a pair of boots, and a shield on the back.
Mario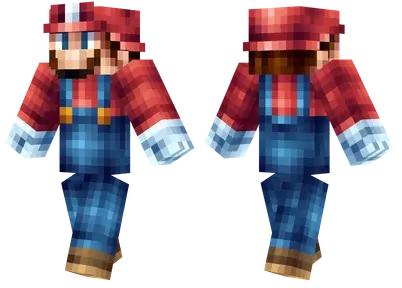 MARIO, who does NINTENDO produce a video game character? Super Mario, which was a very popular video game, has made a mark on their fans & gamers, and even this game is loved by many gamers & streamers. This Skin of Mario features him wearing his iconic blue Jumpsuit over a Red shirt, Brown boots, an 'M' printed on his red hat, and his classic mustache but all this in a pixelated way.
Aphrodite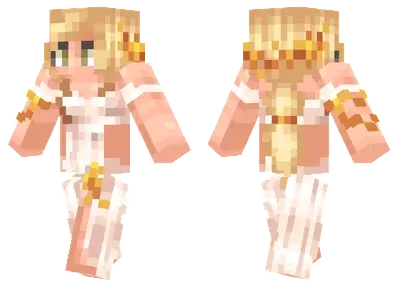 Influenced and Devoted by "APHRODITE," the Greek Goddess of love and beauty, the creators of Minecraft created her by featuring her with long Blonde hair, white dressed with Gold jewels.
Technoblade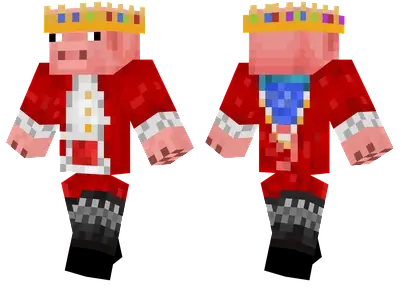 This Minecraft Skin is a reproduction of the official Technoblade Skin in remembrance of TECHNOBLADE, who was a famous streamer on Youtube & Twitch for Minecraft-related Content. This Skin features his Iconic pig wearing a Red jacket, a Gold Crown, and Black boots.
Wrapping Up
We covered some of the best Minecraft skins, and this is not only the list of the best ones, as there are a lot more, and everyone has their own taste. So, We can't say this will be the best list of Minecraft skins for all, but for most of them, this will be great. We'll also include more as per the trend; even you can let us know about the awesome one by commenting.
Moreover, let us know which one is your favorite from the above Minecraft Skins list. Also, Share with your friends and on social media.