MSM Download Tool 2023: Today, Android Smartphone users are more than 2.5 billion worldwide, and the share of the entire operating system market is the most covered by Android OS, which is 72.6%. No doubt, Android OS is an excellent and user-friendly operating system, but in every Android device, software problem comes up over time. By the Way, the problem can be solved by flashing the device Stock ROM. And for this, a shopper will charge around $ 5 to $ 10 depending on the device model.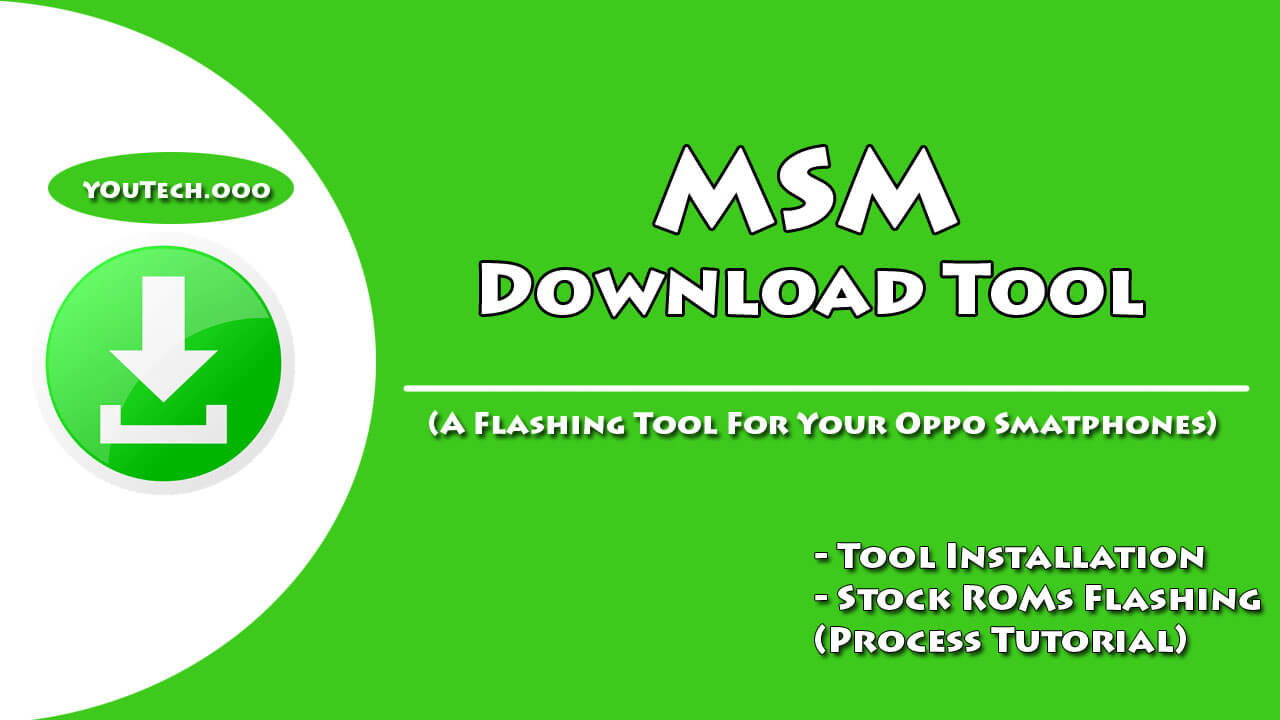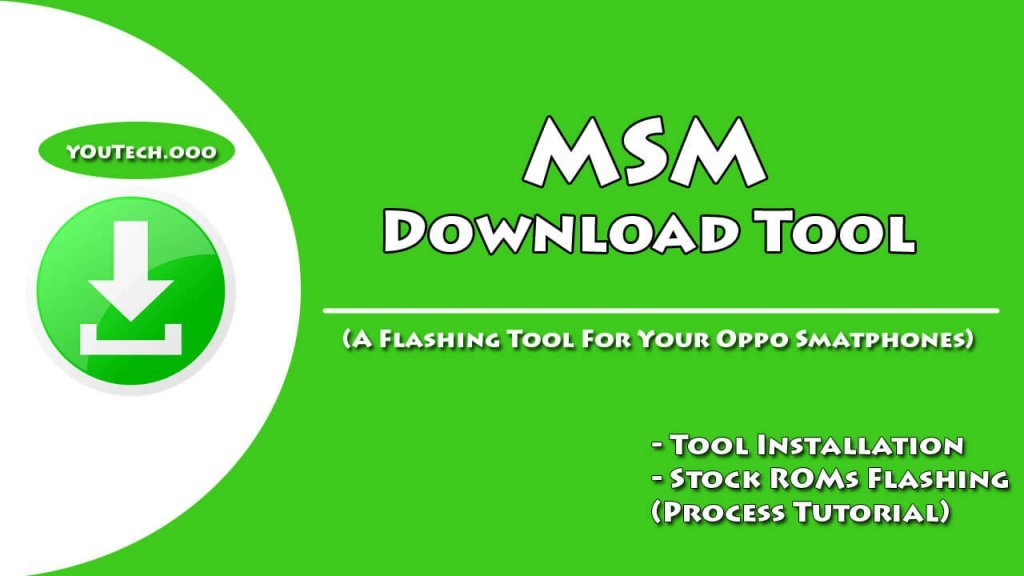 However, you can flash by yourself, although our today post is on the same topic. In this post, we will tell you about a tool that will allow you to flash all models of Oppo on your own and save your $ 5 to $ 10. So wouldn't you like to know about that tool? I know you want to know; the name of that tool is the MSM download tool. So, let's know more about the tool. Next, we will know how to flash the Android Phone? Exclusively for Oppo and Vivo models. After Flashing, Install Netflix Free APK and Watch Web Series On Your Device.
What is MSM Download Tool?
It is a Flashing Tool through Which One can able to Flash Stock ROMs Of all the Models Of Oppo very smoothly. But, you need a tutorial for both installation and flashing. Since the installation process is a bit different and challenging to understand, that's Why We're Writing this Article Where We try Cover everything Easily and Understandably. So that You Can Easily Understand can Flash Your Oppo Devices.
The MSM download tool can be used in such situations when you forget the pattern lock, password, screen-lock, etc. of your Oppo device; even you can use it when your device starts lagging too much as compared to Normal. Because we all know that over time all the Android devices start lagging, and this is very annoying. Flashing Stock ROM can also solve this problem.
But while flashing the smartphones of Oppo and Vivo, you may face many errors that are caused by the tool. And if you do not know how to solve, then you will not be able to flash; that's Why We've mentioned solution of some errors which you may face during Flashing through MSM Download Tool. Also, We had Mentioned What You Need to Flash an Oppo Device.
Error Occurs During Flashing Process
Here, We Mentioned some of the Error Which You May Face While You're Flashing Your Device. These are some common errors that almost everyone has to face.
The Microsoft status appears to be offline even after using a fast Internet or WiFi connection.
While clicking "START BUTTON," it does not show any response even after the tool is in use.
Fix Unauthorized and Hidden Start Button in MSM Download Tool
Most General Error Connection Timeout.
Asks Tool Username and Password.
A message that appears when flashing any Oppo phone using the MSM download tool: "You must use authorized accounts such as F9, F7, F5, A3S, etc."
Above are the Common Errors You Will Face if you didn't flash properly. Don't Worry! We Will Provide Installation and Flashing Process Both.
Download MSM Tool
Not all MSM Flash Tool Works, You need the latest and Working Version with License, then You will be able to Flash. Below, We Provided You the direct download link of the MSM Tool. To Download Oppo MSM Download Tool Latest Version, Click On the Button, and You will be Redirected to another Page where You've Download Link advertisement free.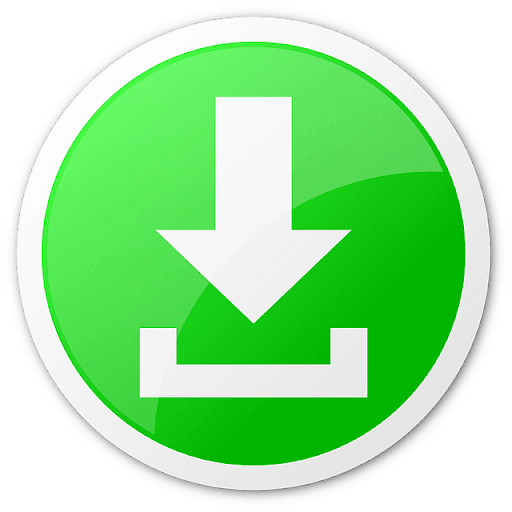 | | |
| --- | --- |
| Name | MSM Download Tool (All In One) |
| Size | 171 MB |
| Version | 4.0.58 |
| Supports | Oppo Device |
| Last Updated | Jan 01, 2023 |
How To Install MSM Download Tool?
As I previously told you that the installation process is a bit different and challenging to understand, but we try to Mention steps as simple as we can. But, You also need to pay proper attention to Steps Mentioned below. Then you will be able to Install MSM Flash Tool and can Flash Your Device without facing any Errors.
Step 1: First Of All, Download RAR File Given in the Download Section of this Article. What's in the RAR file? There is MsmDownloadTool_NoAuth.RAR, OPPO ALL TOOL 2020.RAR, Oppo USB Driver Setup.exe, QDLoader HS-USB Driver.RAR, and all other tools you need during flashing.
Step 2: After Downloading, Right Click On the File OPPO ALL TOOL 2020.RAR to Extract that RAR File.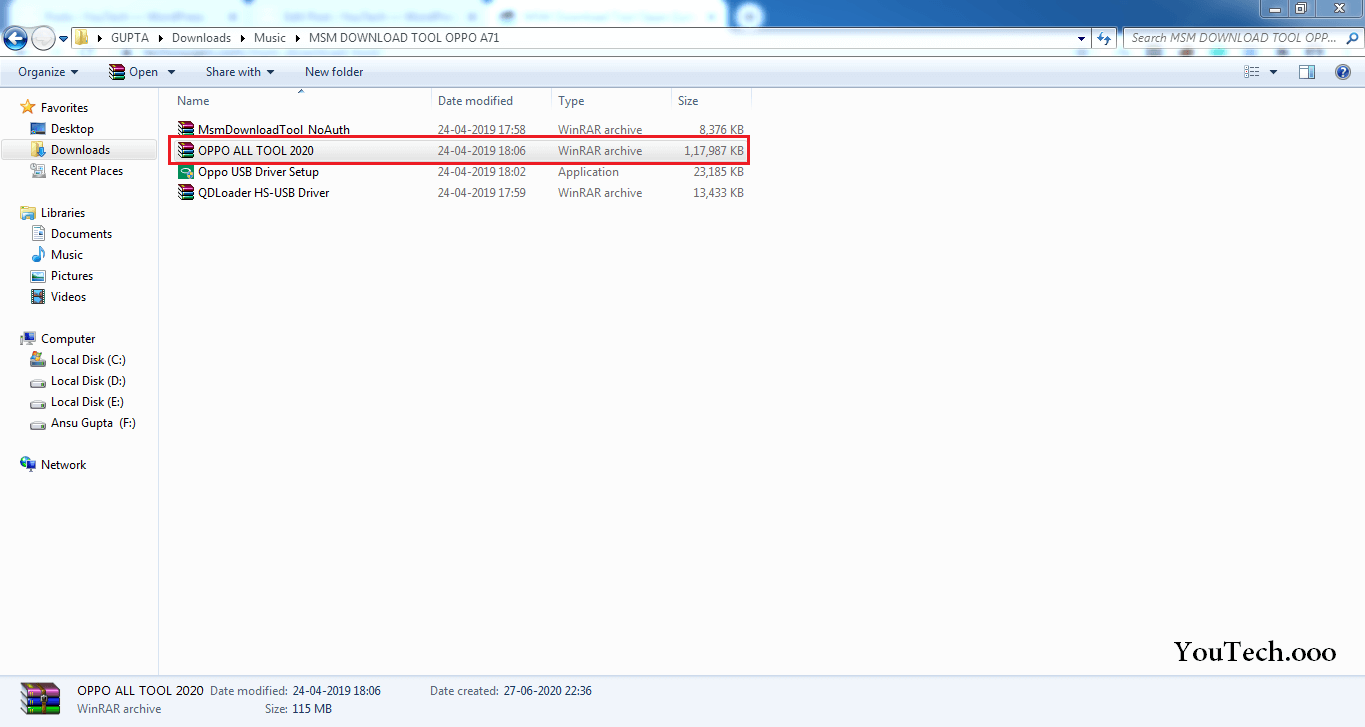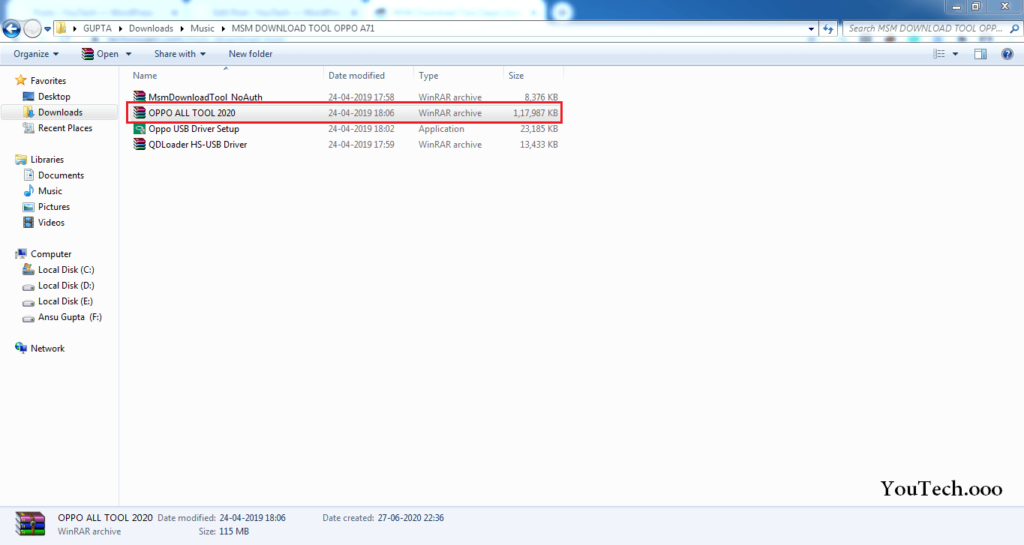 Step 3: Now, Open OPPO_ALL_TOOL Folder and install the PDAnet.exe and CodeMeterRuntime.exe file on your desktop from that extracted file.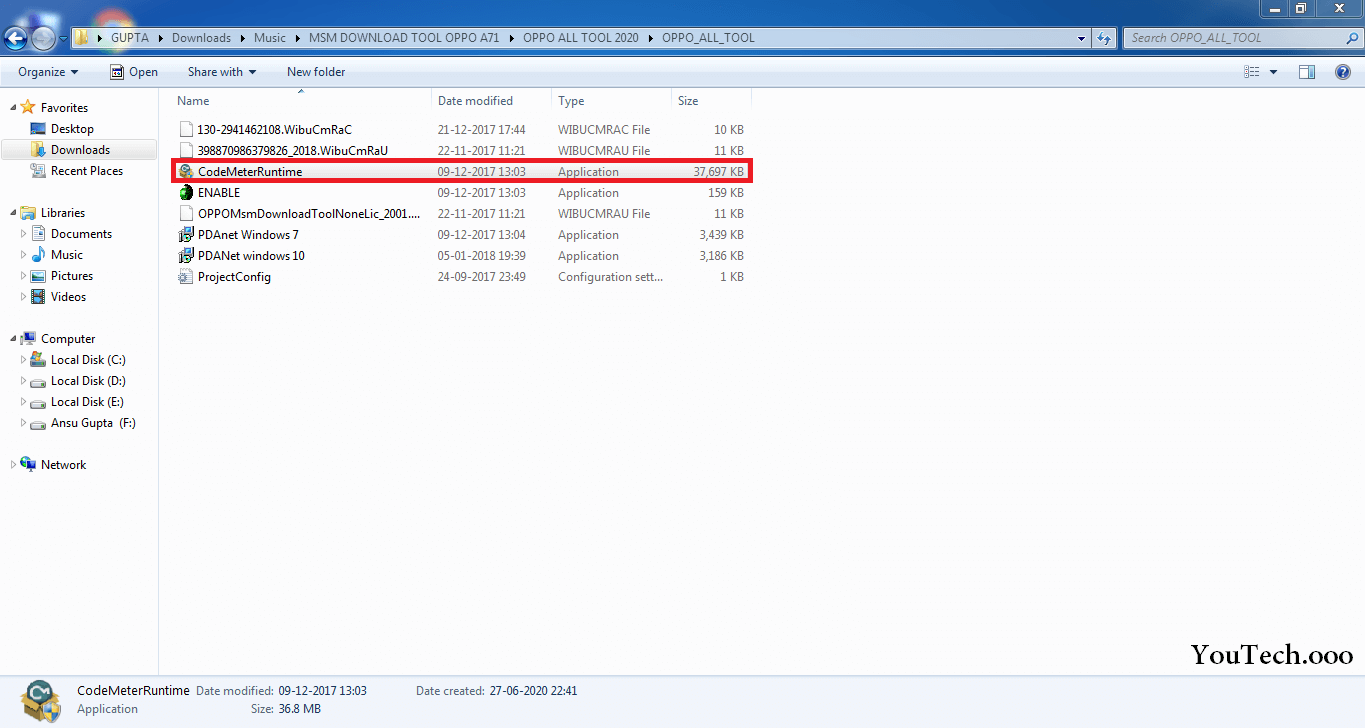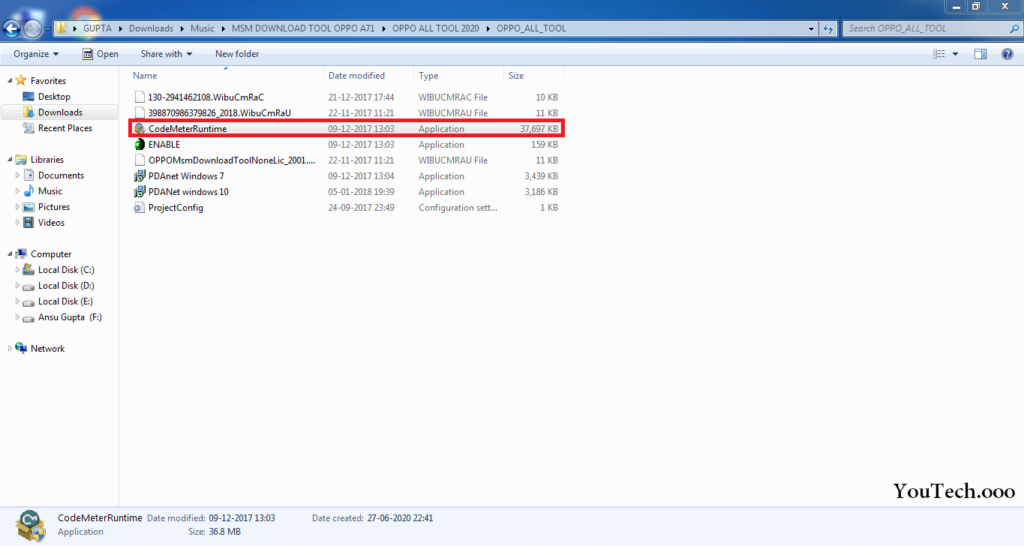 Step 4: After installing both files, open the CodeMeter Control Center and then Click On file.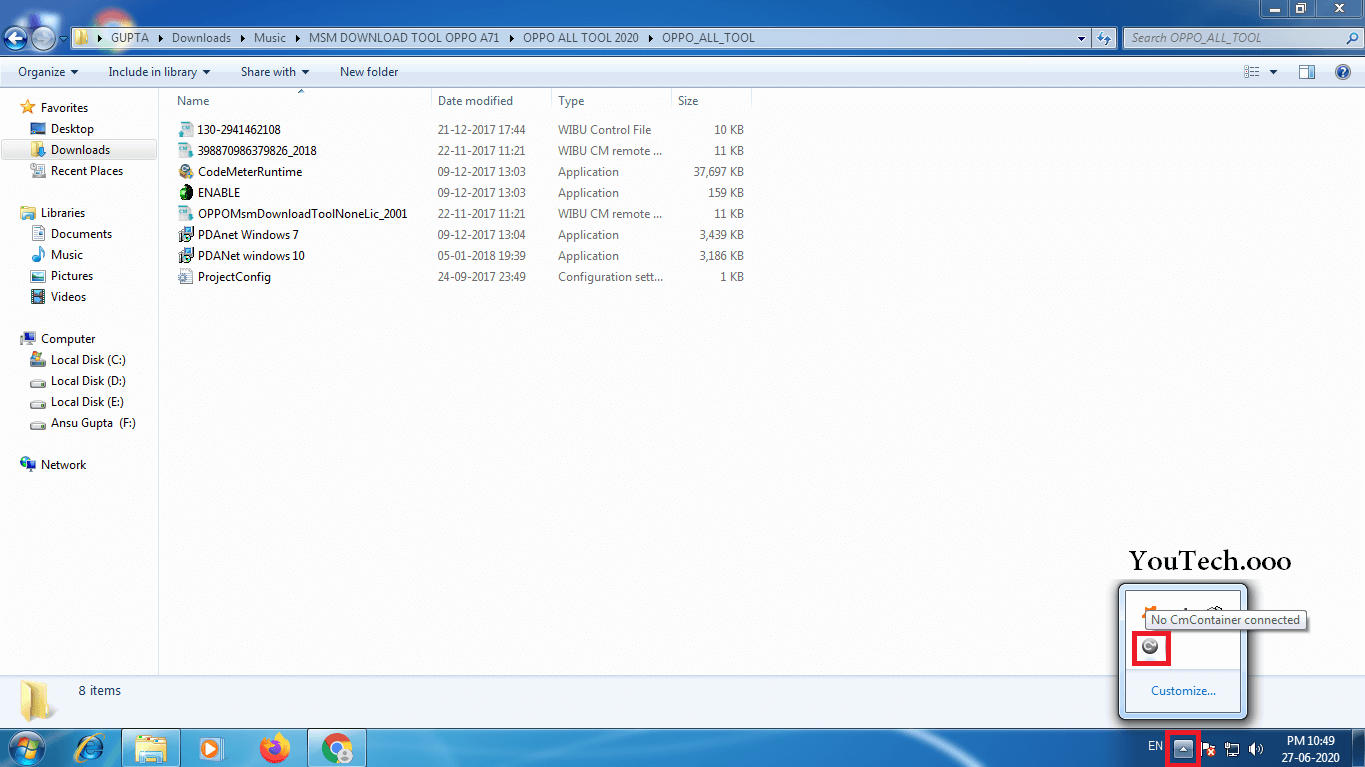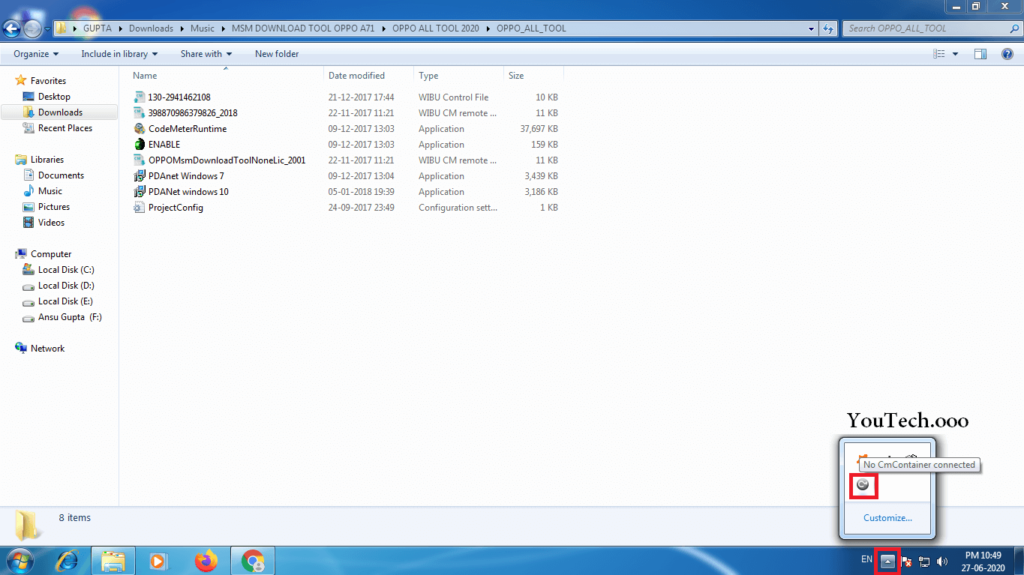 Step 5: Now, You Need to Click On Import License File then Locate the Extracted Folder and Choose Oppo_MSM_Download_Tool_None_Lic_2001.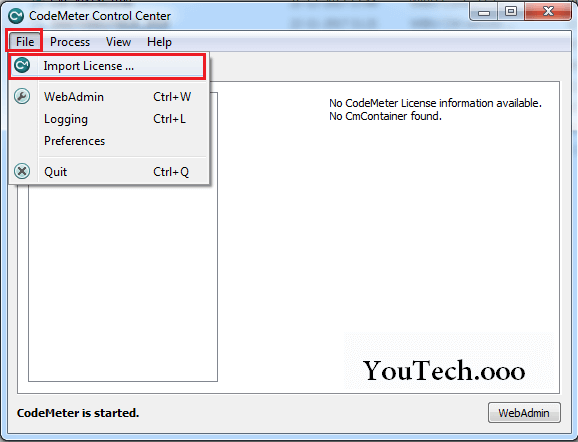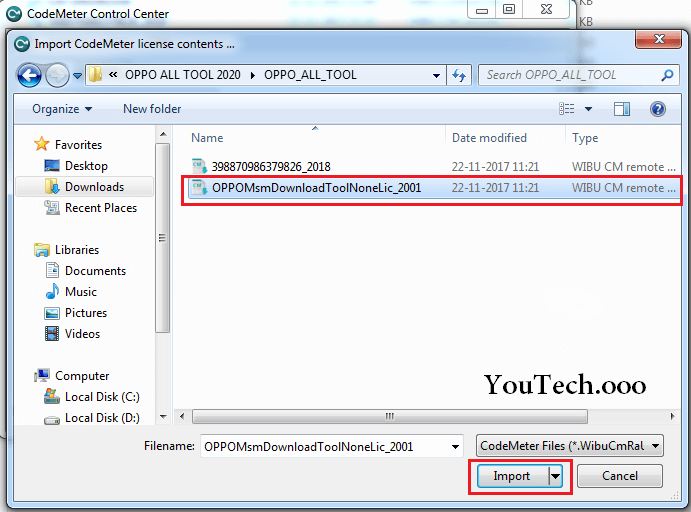 Step 6: After Importing License, You Will License Activated this means the Tool is Activated.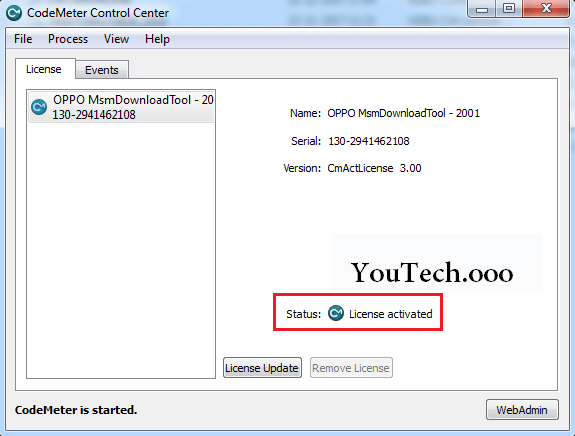 ---
How To Flash Stock ROM Of Oppo Devices?
Step 7: Now, You Need to Download Your Device ROM File, Which is also called Flash File.
Note: While downloading flash files, you have to keep in mind which variant your device belongs to, whether it is 2 GB RAM and 16 GB ROM or 2 GB RAM and 32 GB. Then download according to your device version.
Step 8: After Downloading, Extract the ROM File, and you will see that there is an MSM download tool inside that folder. But when you open, you will see an error that I told you above, like Connect Timeout, Hidden Start Button, Unauthorized, etc.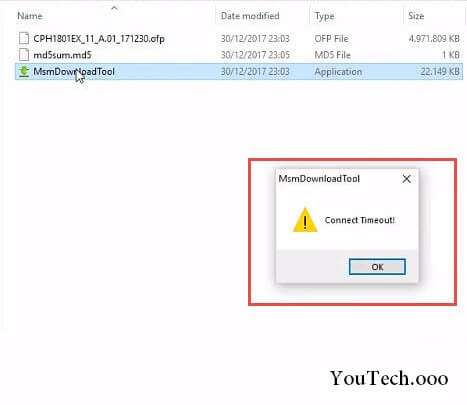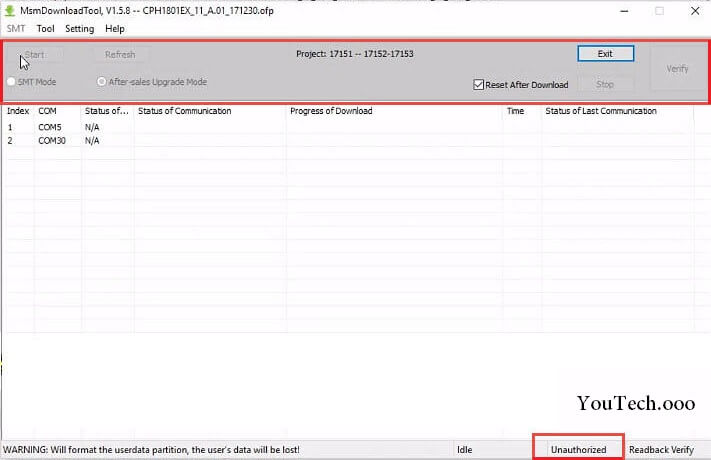 Step 9: Now, You need to back to your first extracted folder and then Open "Enable.exe" you will see a Pop-Up Where You need to Click On Enable Button. This Will make the "Start Button" Clickable, but the status is it unauthorized On MSM Download Tool.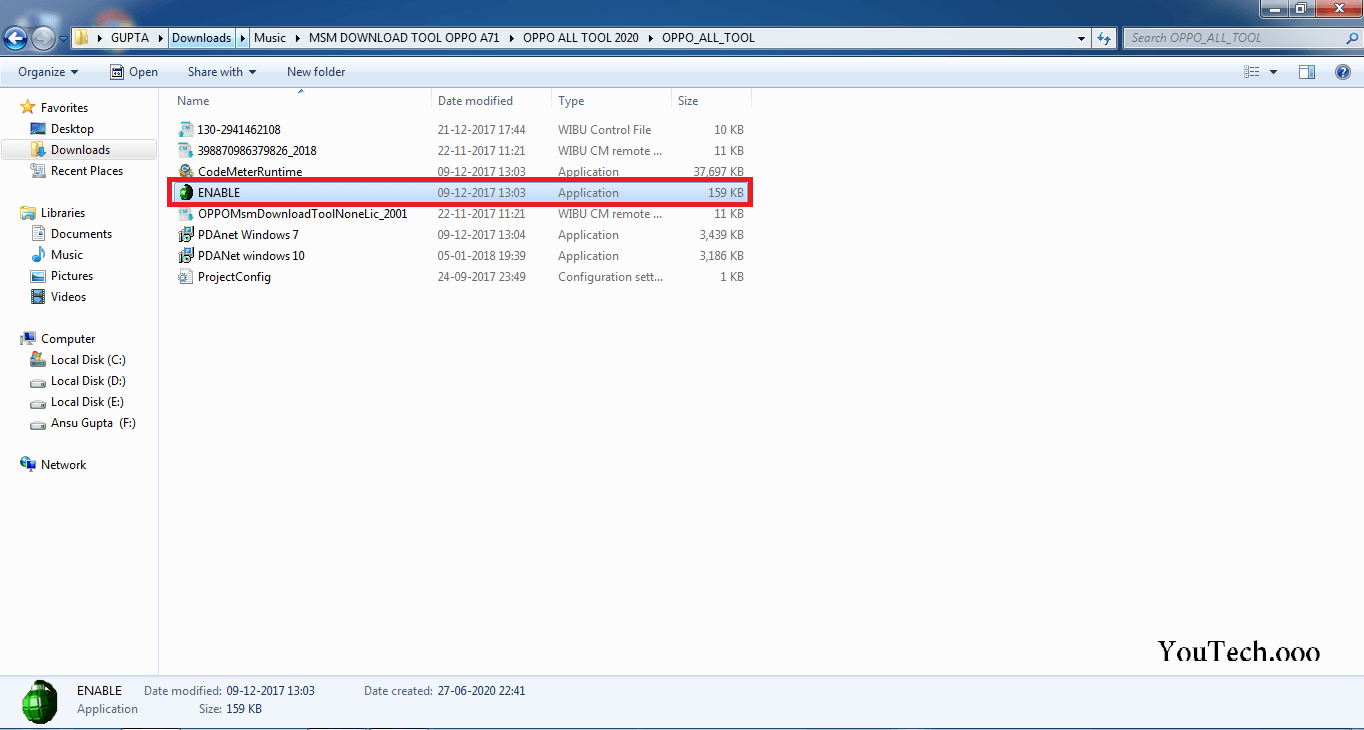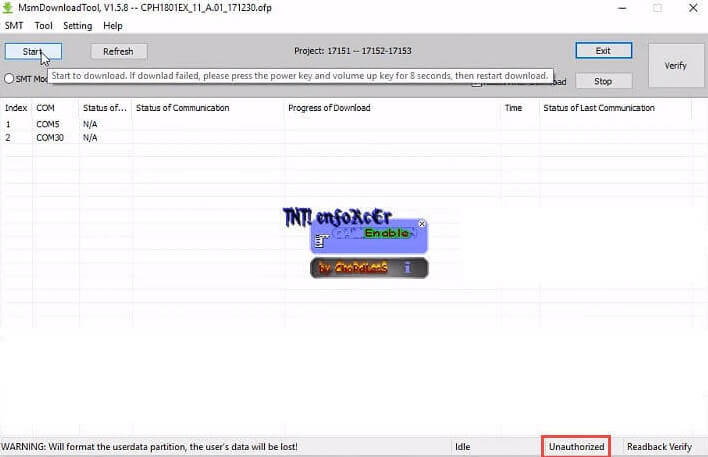 Step 10: Close the MSM Tool; to close completely, you need to Click on YES Button.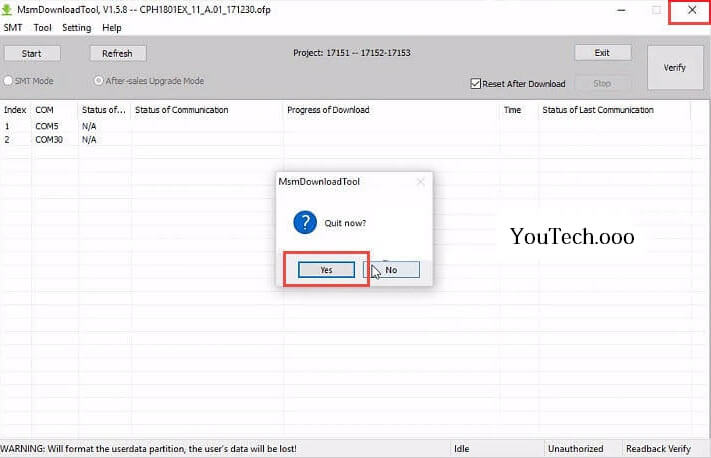 Step 11: Now Extract "MsmDownloadTool_NoAuth" and Go back to your Stock ROM Folder and Cut/Copy all the File Expect MSM Tool and then Paste it to the "MsmDownloadTool_NoAuth" Folder.
Note: Password For MsmDownloadTool_NoAuth is YouTech.ooo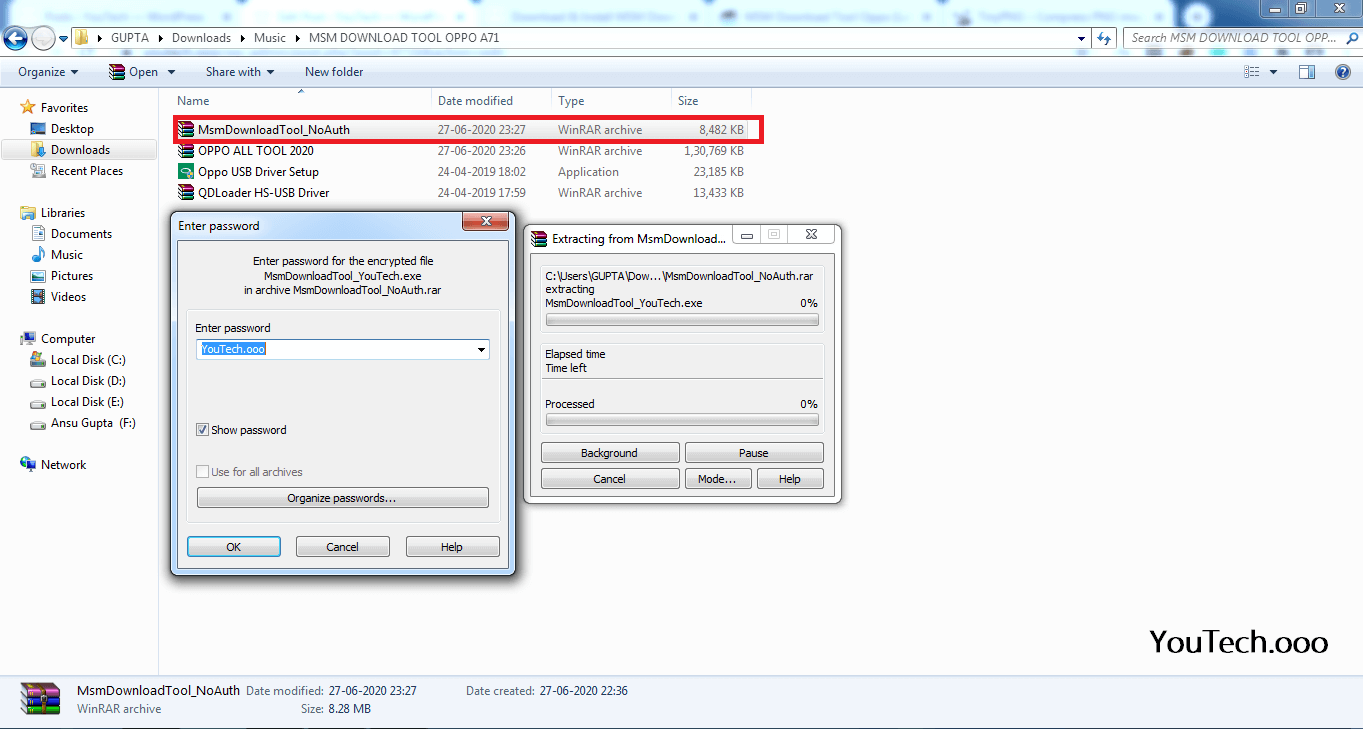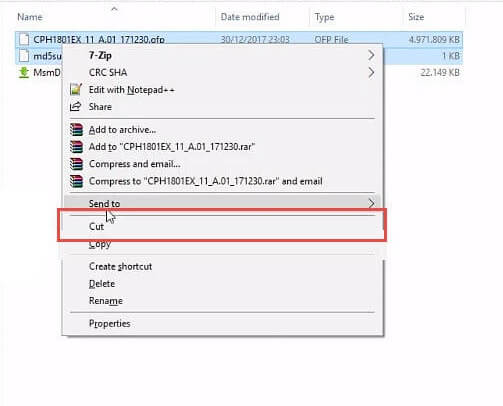 Step 12: Open "MsmDownloadTool_Youtech.exe" and you will see that all the Error is now Solved. The Start Button is Clickable, and also the Unauthrozed is showing "Internet/Online"; this means the tool is now ready to flash your device.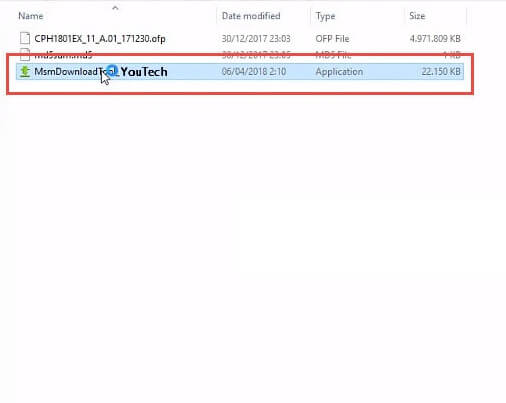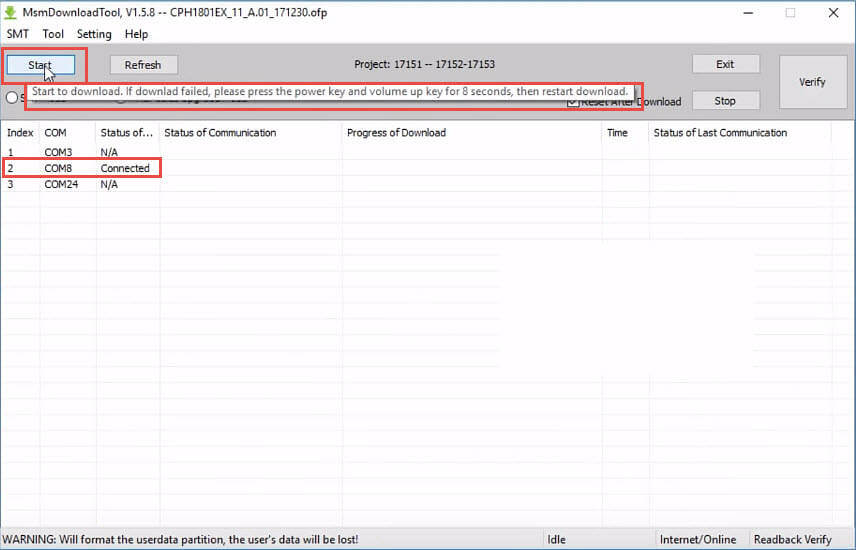 ---
How To Enter Download Mode?
Step 13: Now, Switch Off Your Oppo Device, and then you have to hold the volume up + power key until your device comes into download mode. When Your Device is in Download Mode, connect it with your PC using USB Cable.
Step 14: As soon as the download tool detects your device, you have to click on the start button. Then a Pop-Up Will appear Showing "Will format the user data partition, the user's data will be lost" with options YES/No. You Need to Click On YES to Proceed Flashing Process.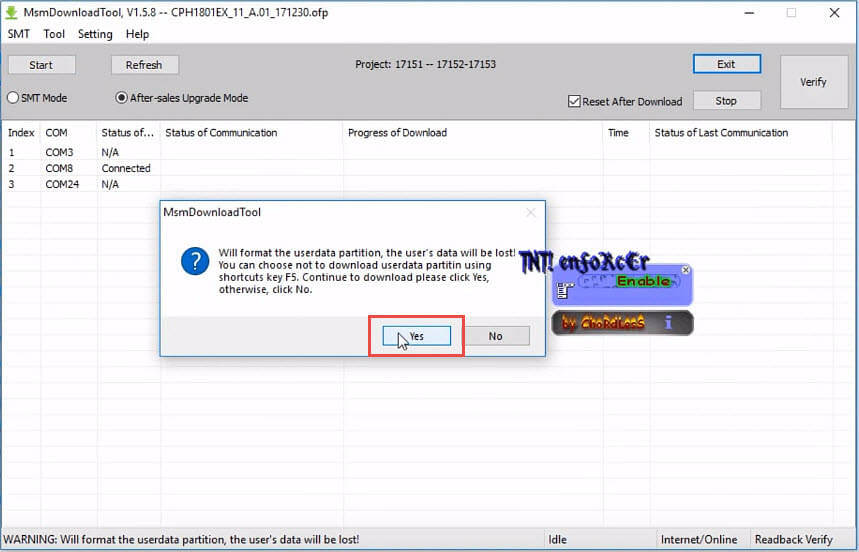 Step 15: When Downloading is Complete, You Will See Message "Download Success" and the Phone Will Restart Automatically; this means your device Stock ROM is now wholly flashed.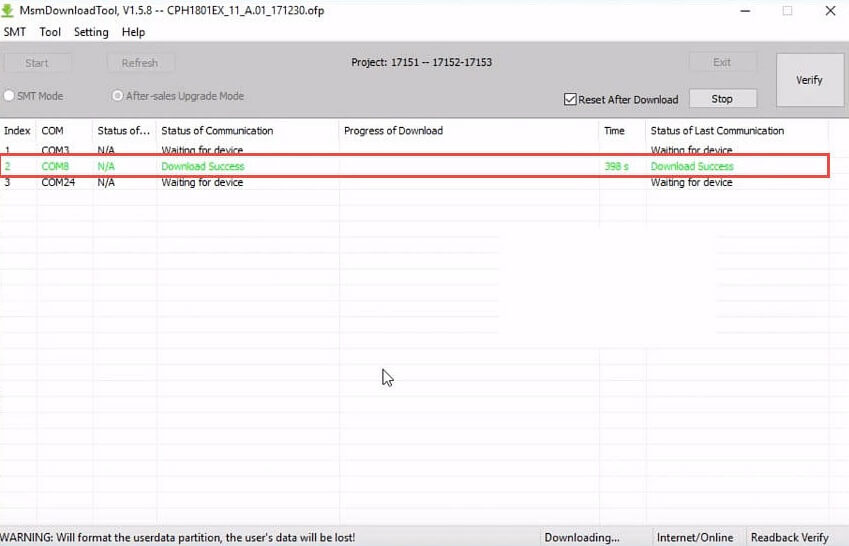 Now, Complete Device initial setup to make the device usable. Apart from this, you have to know the 5 things that you never do with your phone to maintain the performance of your smartphone.
Wrapping Up
MSM Download Tool is Specially Made For Oppo Device to Flash Stock ROM. In this article, we have tried to simplify the installation + flashing process as much as we could so that you can easily understand and flash your device. Also, We Provide You with the Latest and Working Version Of the MSMDownload Tool With a Working License File.
If You Like the Information Provided and are able to Flash, then Don't Forget to Share, and if you face any Problem During Flashing Process, then Drop Your Problem in Comment Section. Have a Good Day!