When it comes to game-building platforms, then Roblox is on the list of the top 10 and soon will be on 1st. Its popularity is increasing with time, attracting developers to build more interesting and good-quality games. However, The main issue with the platform is that even if a team of developers or individuals developed a high-resolution with high FPS games; still many users having high-end PC can't get over Roblox's 60 FPS Limit which makes them feel like they have a Potato PC.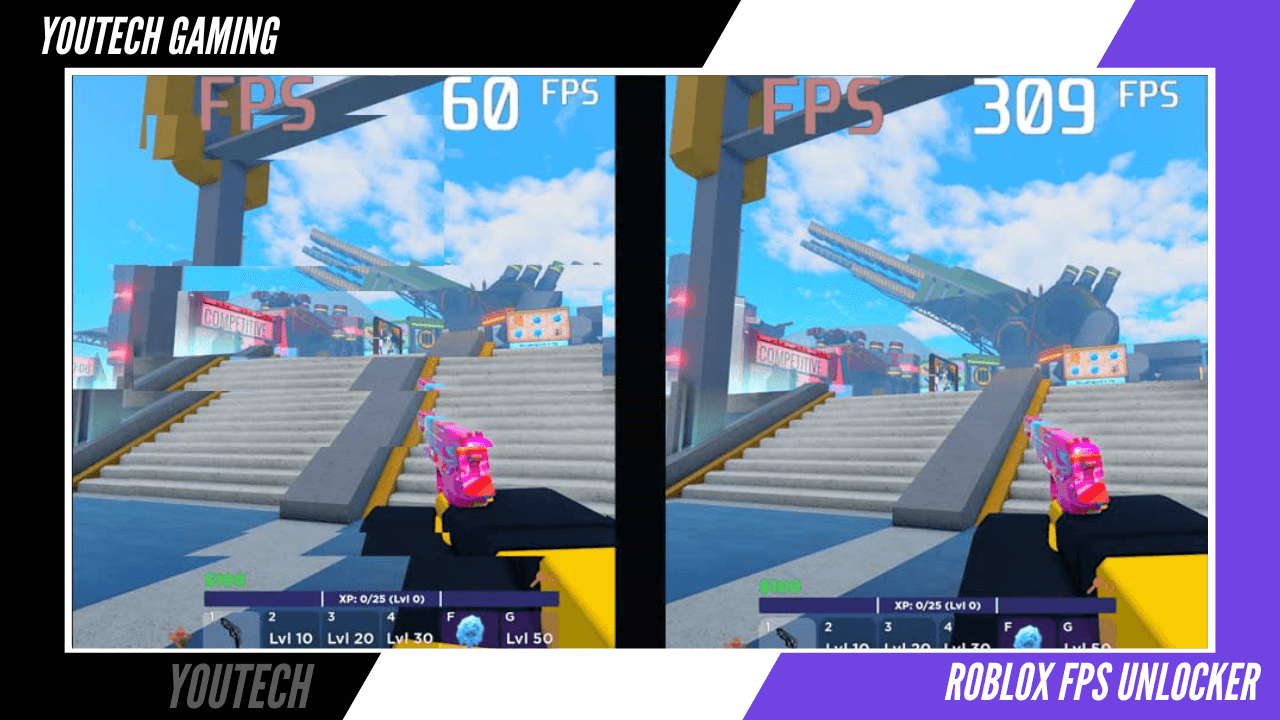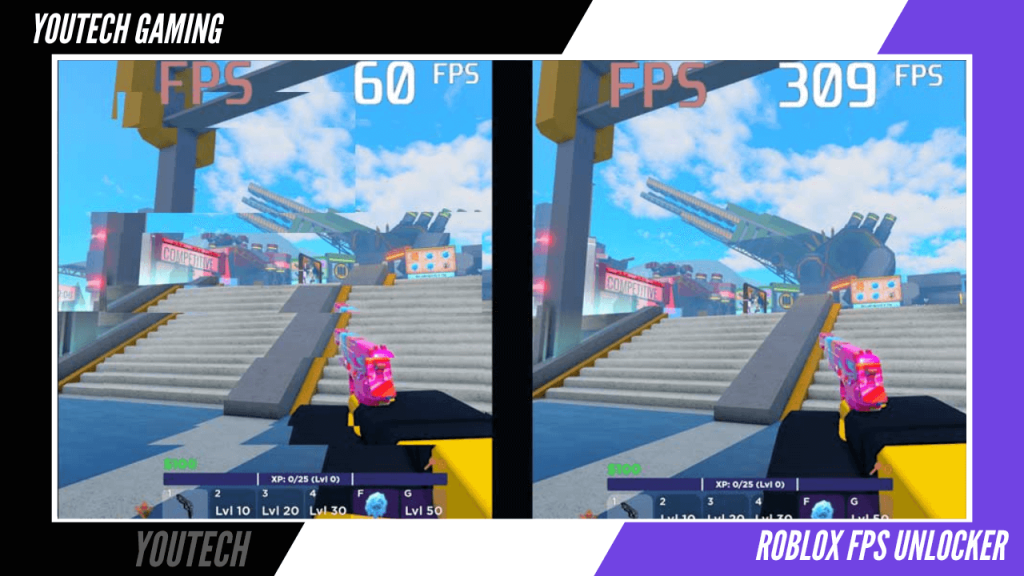 So, If you have the same issue and want to overcome it to get a higher FPS, then you should need to know about Roblox FPS Unlocker. Moreover, We not only tell you about this unlocker tool but will also guide you on how you can use Roblox FPS Unlocker to unlock higher FPS. So, Let's have a look into the depth of this topic.
What is Roblox FPS Unlocker?
Roblox FPS Unlocker is a utility tool specially designed for the players of Roblox to get a smooth and lag-free experience; the reason for developing such a tool is to give players a higher FPS than the fixed limit of 60 as the higher the FPS smoother the gameplay will be but How it works?
Basically, It is a script that was developed by a third-party developer, not by the platform developer, which injects some code during gameplay in order to give more FPS than the limit. Now, you may be thinking about an account ban as it injects code. Am I right? So, Let me tell you that code is not actually injected into the game as it is present on your PC that is used during gameplay, meaning your account is safe.
Before, We move towards the guide, let me clear to you that the Roblox FPS Unlocker not working for many players, and most of the case is due to their PC that isn't even capable of giving at least 60 FPS which is the reason, so keep in mind this. Moreover, There are different methods to get, but here we're going to cover the one that mostly works for everyone. So, Let's know about the use.
How To Use Roblox FPS Unlocker?
You don't need to be a techie guy; you just have to go through the below simple steps to know how you can use this FPS Unlocker tool to get higher than the usual or fixed one.
Note: Here, We're going to use the tool which are openly available on GitHub; the thing we do is to tell you how you can use that tool in a proper way.
Step 1: So your first move is to know about your system (PC) architecture, whether it has 32-bit or 64-bit, then download the Roblox FPS Unlocker Tool from the below download button, depending on your system requirement.
Step 2: The downloaded file is in zip format, so your system needs WinRar to extract the file; then, you'll be able to continue the process. So, If your PC doesn't have then first install the WinRar program on your PC.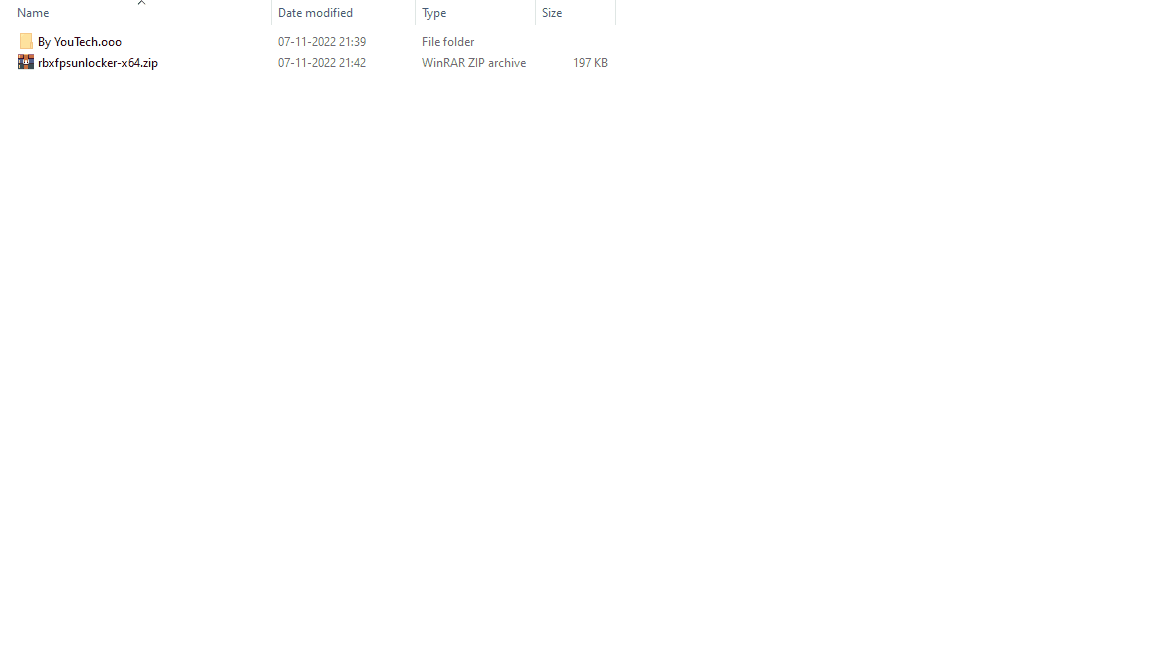 Step 3: Now, Extract the tool then, double click on the rbxfpsunlocker tool, and grant the permission to initiate the application as it requires some permission to work effectively. A small terminal will open, which means the Roblox FPS Unlocker is successfully installed and is in working condition.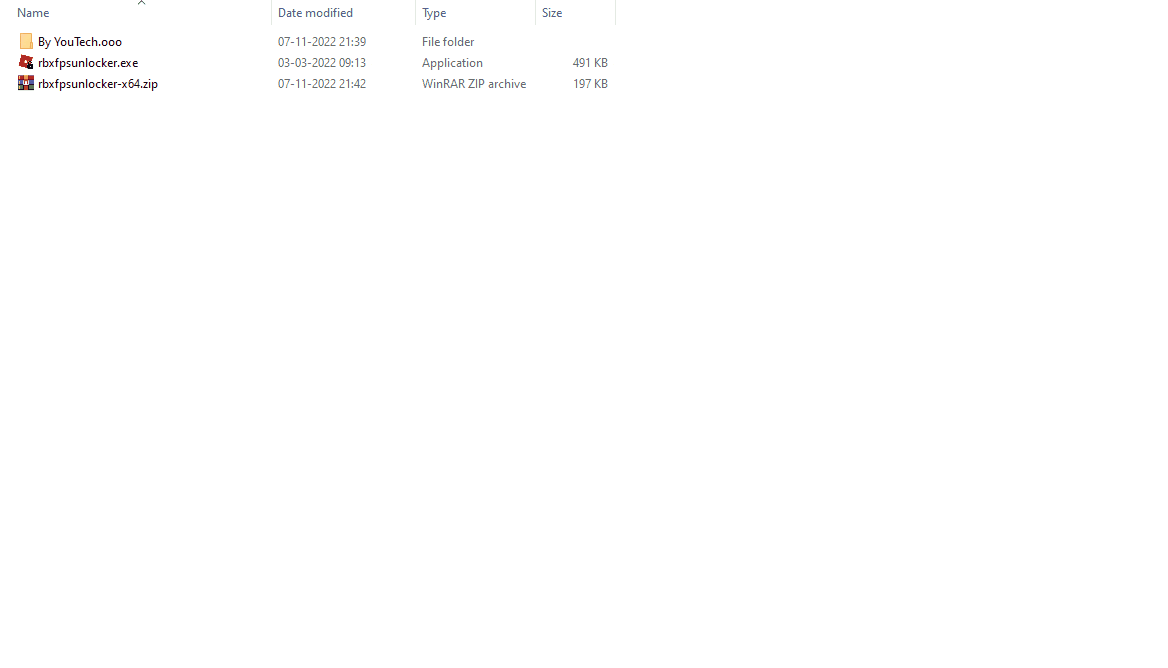 By the way, If the terminal isn't open then you should need to investigate the issue, sometimes it is due to permission issue that can be solve by doing run as adminstrator to rbxfpsunlocker.exe.
Step 4: It's time to use the tool, so how to use it? Firstly, You have to open "Show Hidden Icons" and then right-click on the icon of rbxfpsunlocker; a pop-up menu will appear with lots of options. We just have to focus on the option FPS cap.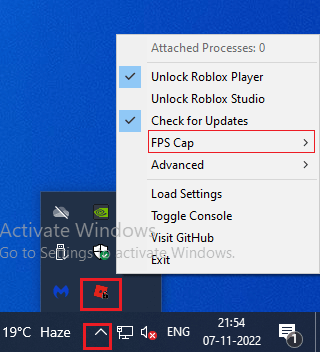 Step 5: Now, Hover your cursor on the FPS cap option, then select the desired one. By the way, We recommend you select as equal to your monitor refresh rate but first, try a higher one; if it works, then OK otherwise, adjust until you get the perfect one.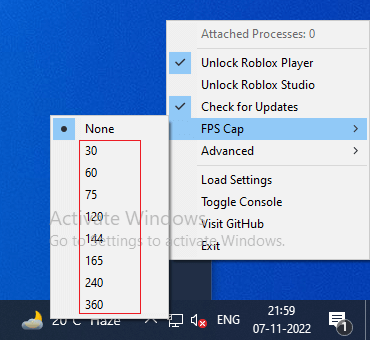 Step 6: Done! It's time to open your favorite Roblox game to see the difference, and this time you will feel that the game is running more smoothly than ever without any lag. Also, Don't forget to check the FPS that will show on the screen (press Shift+F5).
How To Select Custom FPS Cap on Roblox?
So what if you don't find the FPS number you want to select on the FPS cap option? Then you will not get the perfect one according to your monitor. So, If this is a case in which you are stuck, then don't worry we will tell you how you can add a new option to the FPS cap.
Step 1: Open the folder you have; after extracting the tool, you will see a settings file that we use to fulfill our needs.
Step 2: Now, right-click on the Settings file, then open it with notepad and search for "FPSCapValues" you will see different values as shown in the image; just replace any of them with your desired one.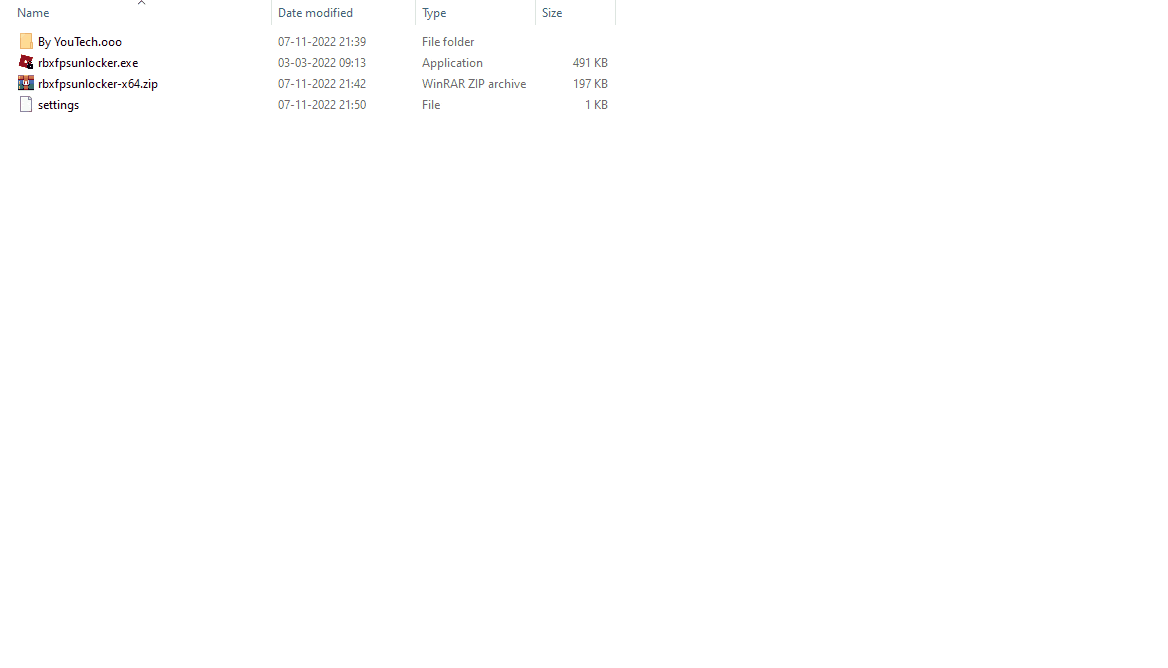 Step 3: After editing the files, you have to save the file; otherwise, you will not get the edited option.

FAQs
Is my account safe if I use this tool?
Well, you mean you're thinking about an account ban, and we already told you that we're not doing any illegal or cheating stuff, which directly implies that the account is entirely safe. We aim just to improve the game's performance, which is totally legal, and we hope developers don't have a problem with this as we don't do any Roblox hacks.
Anti-Virus showing the file contains malware: Does it harm my PC?
Probably not if you downloaded from the right source, which we already gave above so that you don't have to go somewhere else. But why does an Anti-Virus shows that it contains malware? Well, the tool developer came up forward to clarify that the detection system of anti-virus isn't aware of the type of code or structure used for developing the Roblox FPS Unlocker tool; that's why they give a false malware detection.
Does this tool boost my FPS too?
Well, You have to ask yourself does your PC is capable of giving you a higher FPS; if not and still want to get by using Roblox FPS Unlocker, then you don't have an idea about this tool; that's the reason why for most of the players the Roblox FPS Unlocker not working. This tool doesn't boost FPS; it just broke the limit of 60 FPS that is fixed, so if your PC is capable of offering your 120FPS, then this tool helps you to get that one.
Wrapping Up
Done! This is how you can get cross the limit of Roblox 60 FPS and get higher FPS than ever get using this Roblox FPS Unlocker tool. We tested this application on different games, some of which are from the collection of the best scary Roblox games. So, Try by going with the steps mentioned above, and then let us know about your experience after doing the FPS cap.
By the way, If you get any error, then the comment section is always open for you to tell us about the error so that we can help you. Moreover, Share it with your Roblox friends so that they can also enjoy higher FPS.