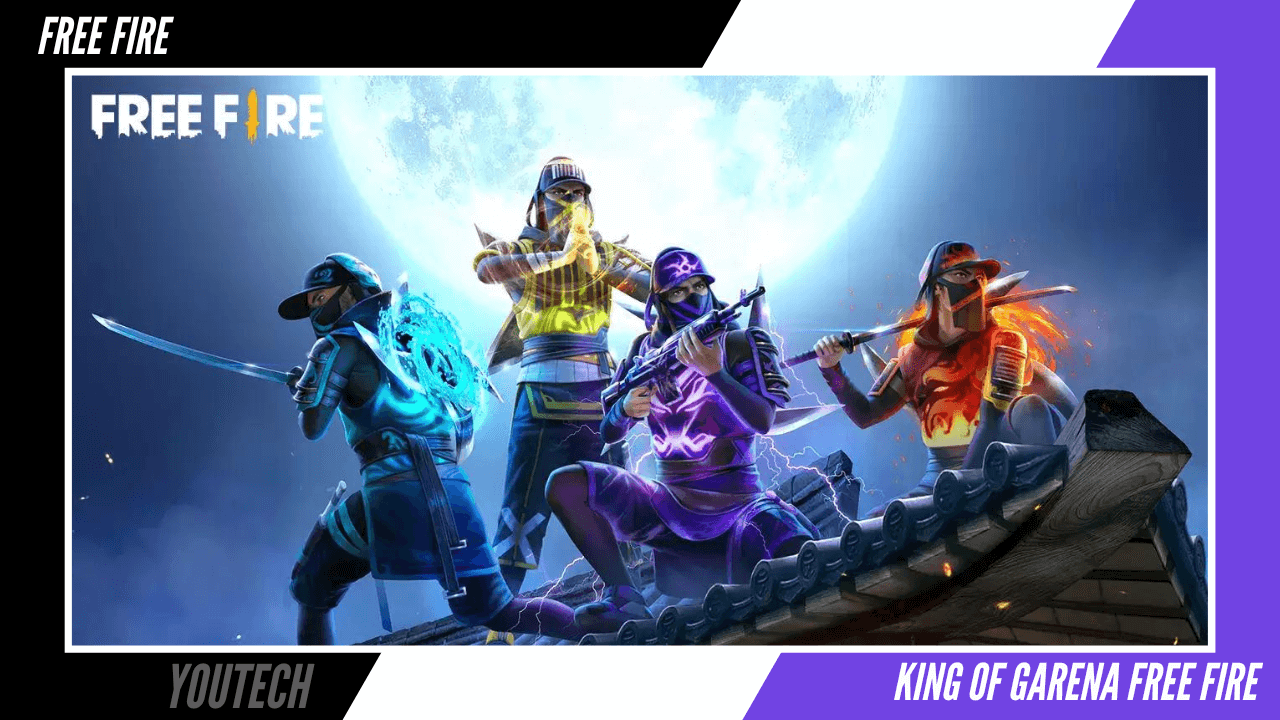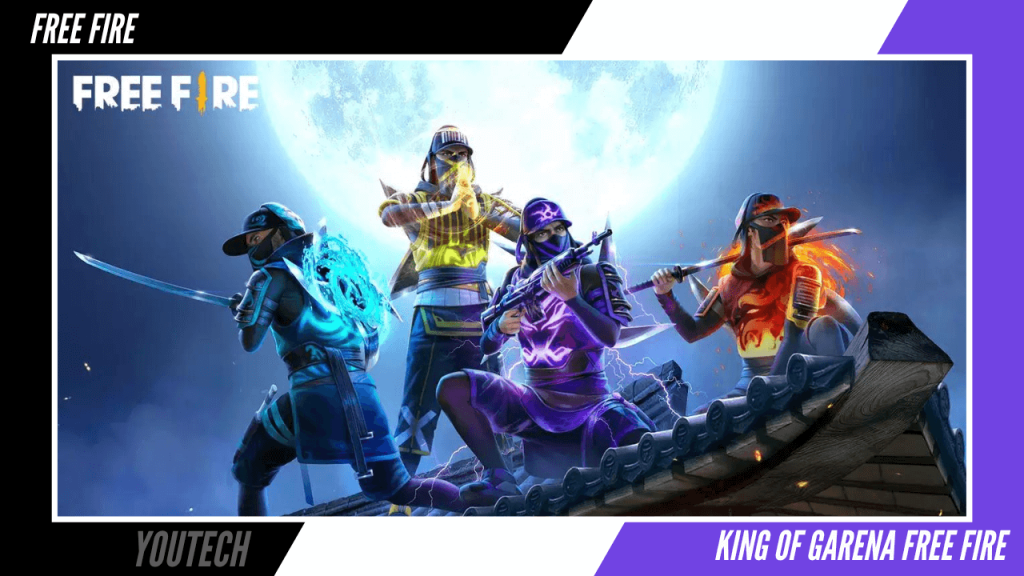 People have always wanted to know Who is the King of Free Fire? But Why do they want to compare one player to another? All are King in their own way; even a noob (you think) is a pro player in their squad, so never underestimate anyone. So, It's hard to determine who is the King of Free Fire? And on what basis do we assume that the player is King?
Here, We're going to choose players who are streamers no matter on what platform they are streaming but are most popular within the country or worldwide. We analyzed the stats of a number of players and made a list of players who may be considered a King Of Free Fire. However, We know that the players' stats are dynamic and change as much as they play, so the list is made according to the stats at the time of writing this article. So, Let's know the Free Fire King.
Who is the King Of Free Fire?
This question can put anyone in a dilemma and hurt someone's sentiments as players are attached to different streamers, and for them, that streamer is the King Of Free Fire. So take your sentiment aside and go through the lists mentioned below to know about the players and their stats as of 2023.
Basically, People think that those who have the Grandmaster title are considered Free Fire King, but that's not true; the reason is that a typical gamer can acquire the Grandmaster title by going through the tasks given by Garena to unlock the title. So, Apart from stats, we mainly focus on the subscribers if the player is YouTuber for their position on the list.
#10 Helping Gamer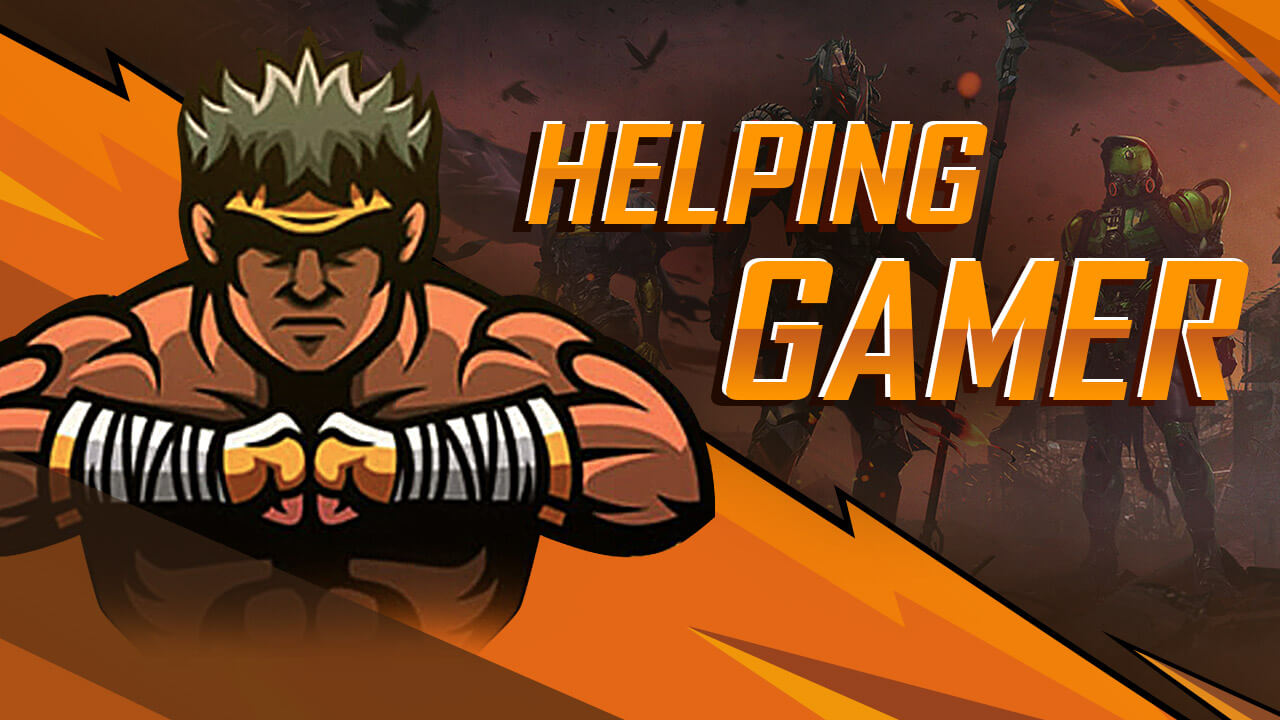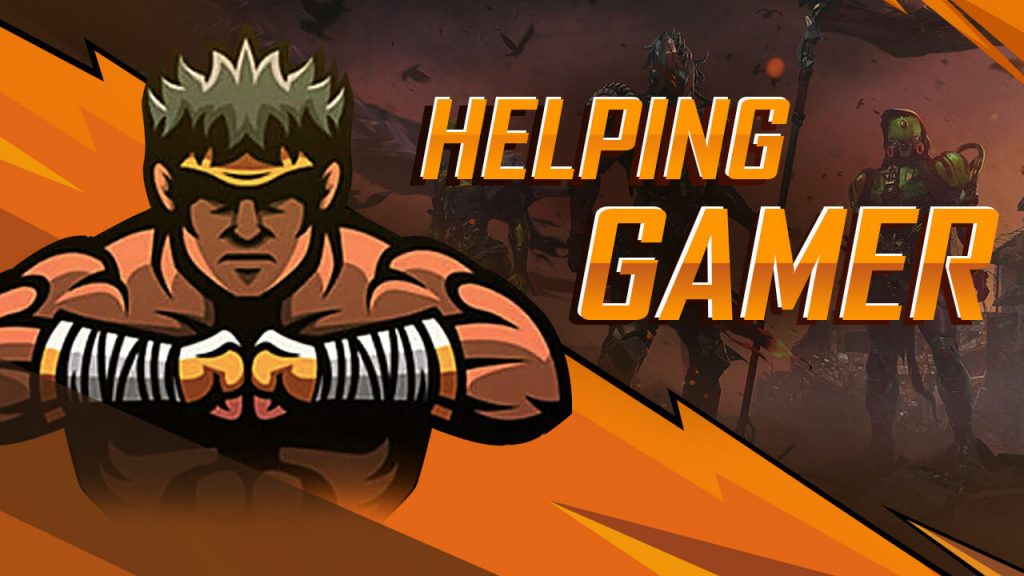 The man behind Helping Gamer is Sarfaraj, a prominent gaming content creator having almost 8 million subscribers on YouTube. Apart from Helping Gamer, he also runs another channel called HG ESPORTS, which has over 522k subscribers. Helping Gamer played about 2863 solo matches and got Booyahs in 173 with a total of 4955 kills; among them, 1299 are headshots; his headshot percentage ratio is 26.22% which is relatively high.
| | |
| --- | --- |
| Free Fire ID | 517121909 |
| Username | H.G_Sarfraj |
| YouTube | Helping Gamer |
| Level | 73 |
| Total Kills | 16501 (Approx.) |
#9 Black Flag Army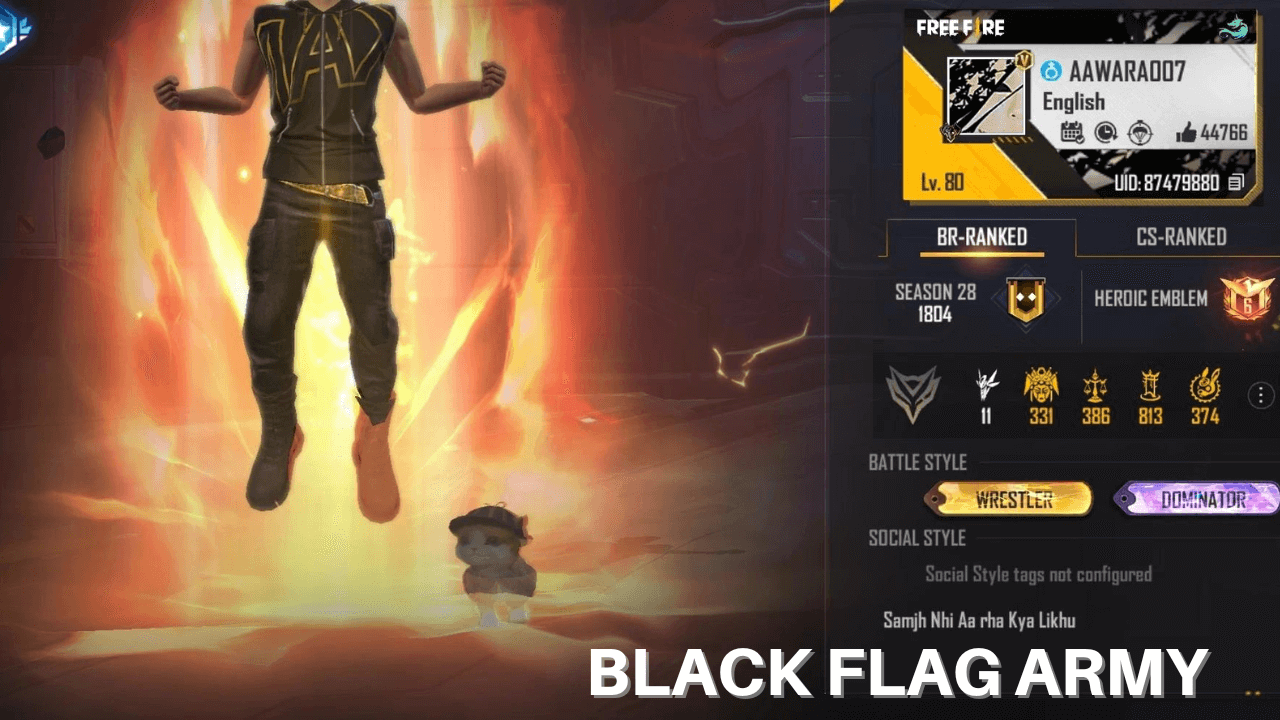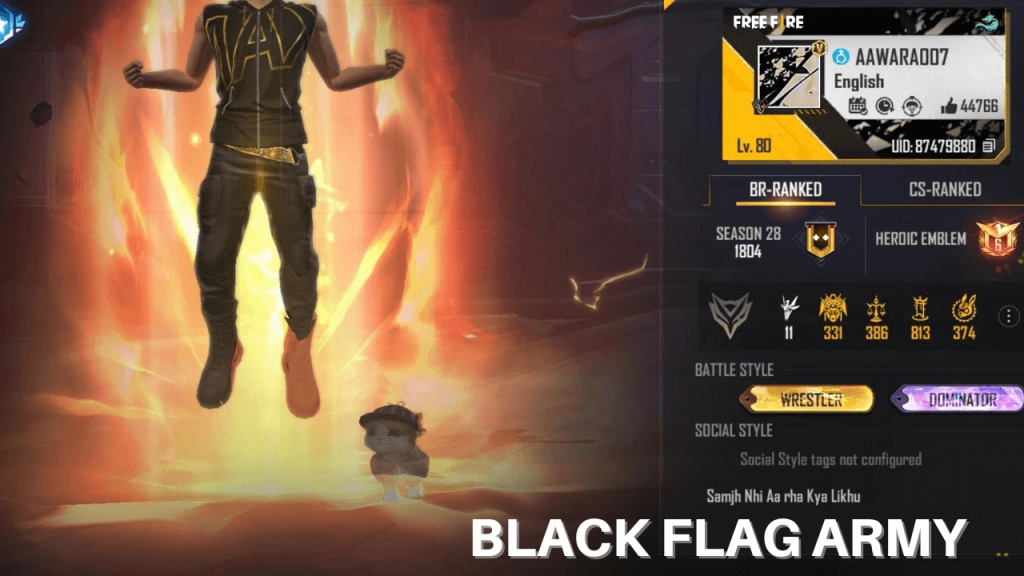 AAWARA007 is the username of the famous YouTuber Black Flag Army, which is a gaming content creator that mostly streams Garena Free Fire. By the way, he is pretty well in Free Fire as he played about 12459 squad games and got Booyahs in 3158 with a winning percentage of 25.34%, which is quite interesting. Moreover, he played 4196 duo games and in 806 got Booyahs. Now, You can determine how impressive Black Flag Army is playing. By the way, People also call him the King Of Free Fire.
| | |
| --- | --- |
| Free Fire ID | 87479880 |
| Username | AAWARA007 |
| YouTube | Black Flag Army |
| Level | 80 |
| Total Kills | 38379 (Approx.) |
#8 A_S Gaming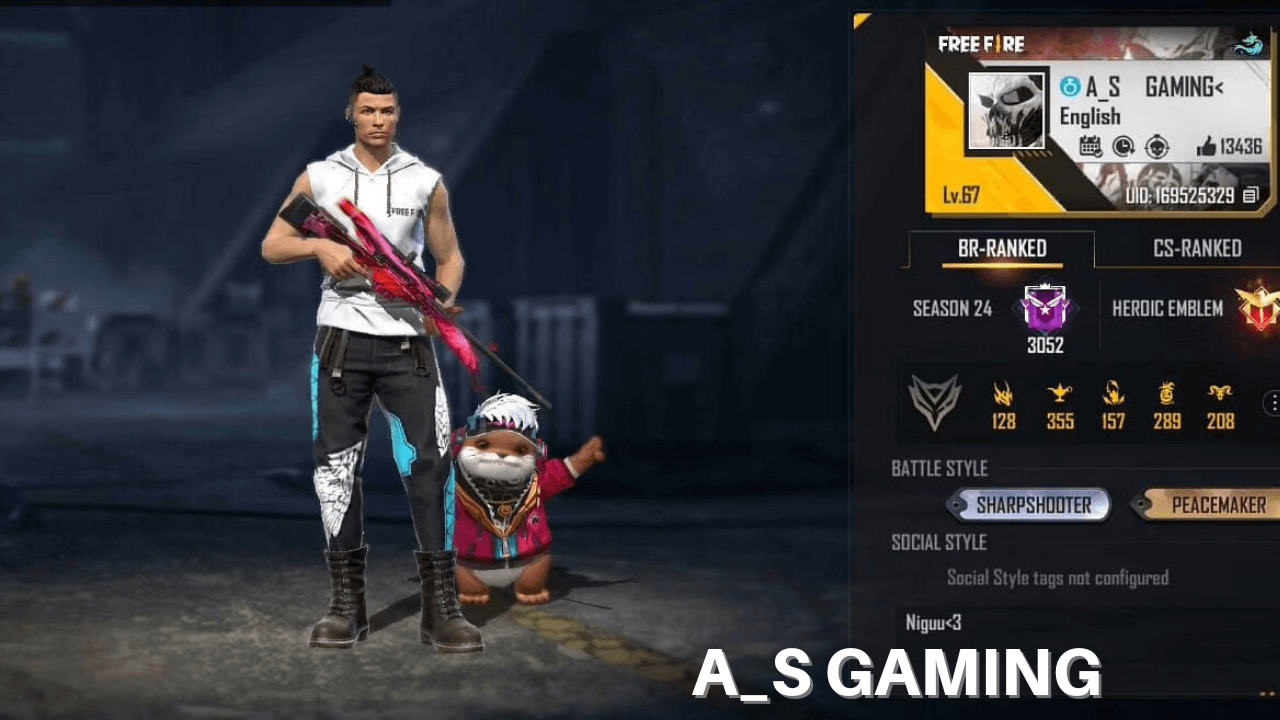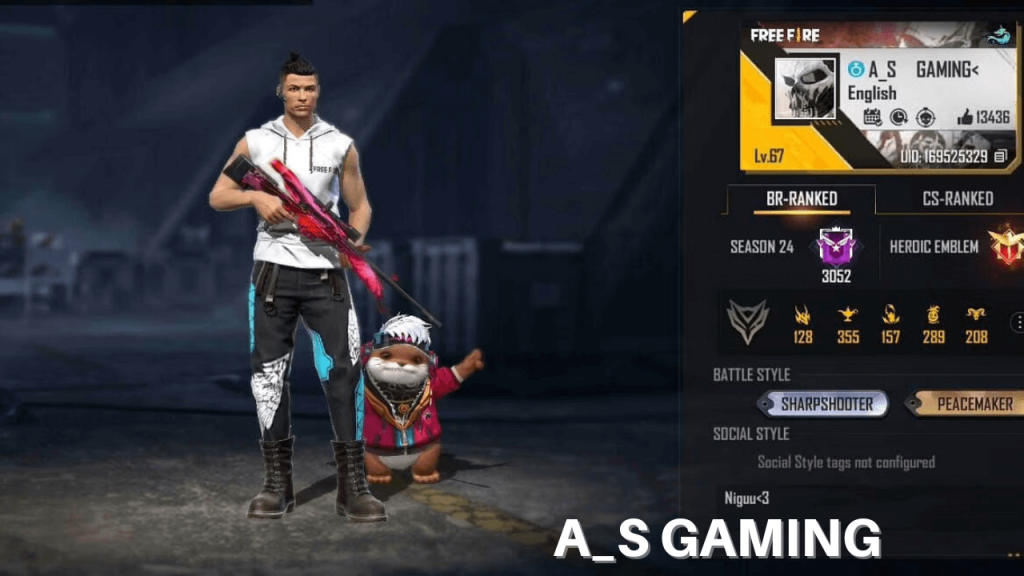 Sahil Rana, popularly known as A_S Gaming, which is his YouTube channel, has over 17 million subscribers and is one of the top-notch Garena Free Fire players. He played more than 6700 matches in squad mode, among which, in 1012 matches, he acquired first place with a winning percentage of 15%. Moreover, he played 2103 duo matches and Booyahs in 280 matches which is quite impressive.
| | |
| --- | --- |
| Free Fire ID | 169525329 |
| Username | A_S★Army |
| YouTube | A_S Gaming |
| Level | 67 |
| Total Kills | 16673 (Approx.) |
#7 Two-Side Gamers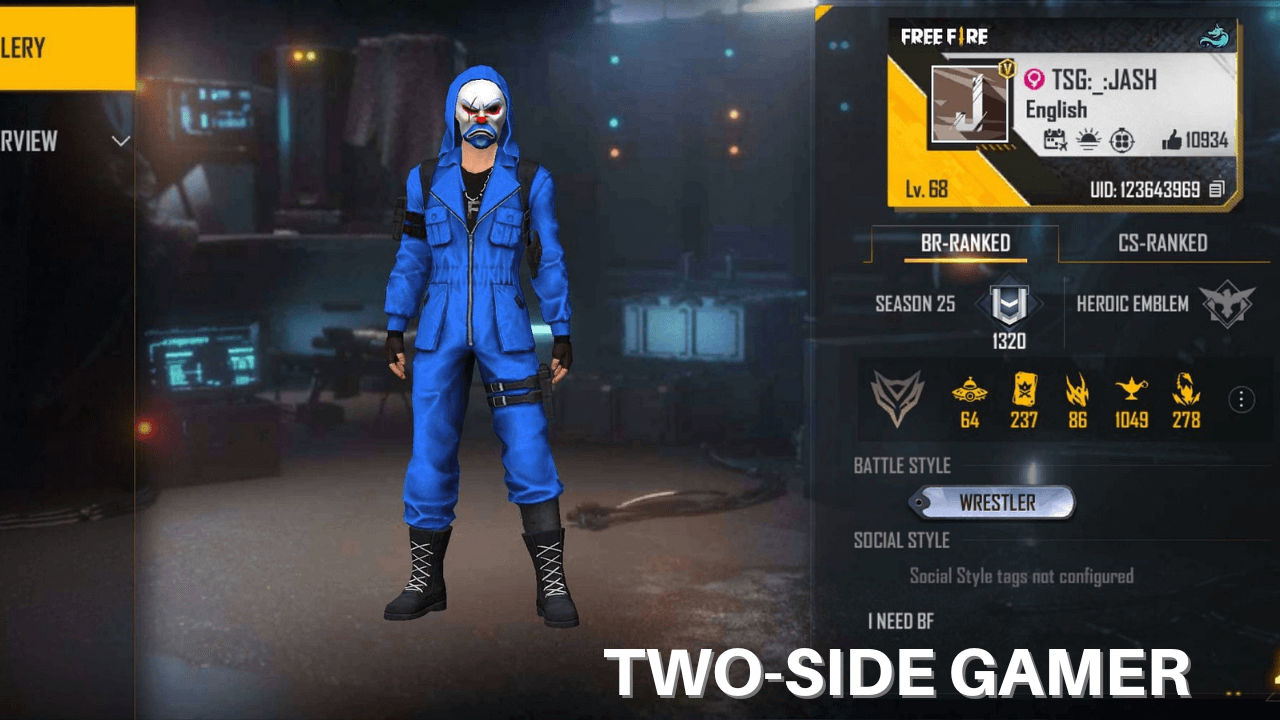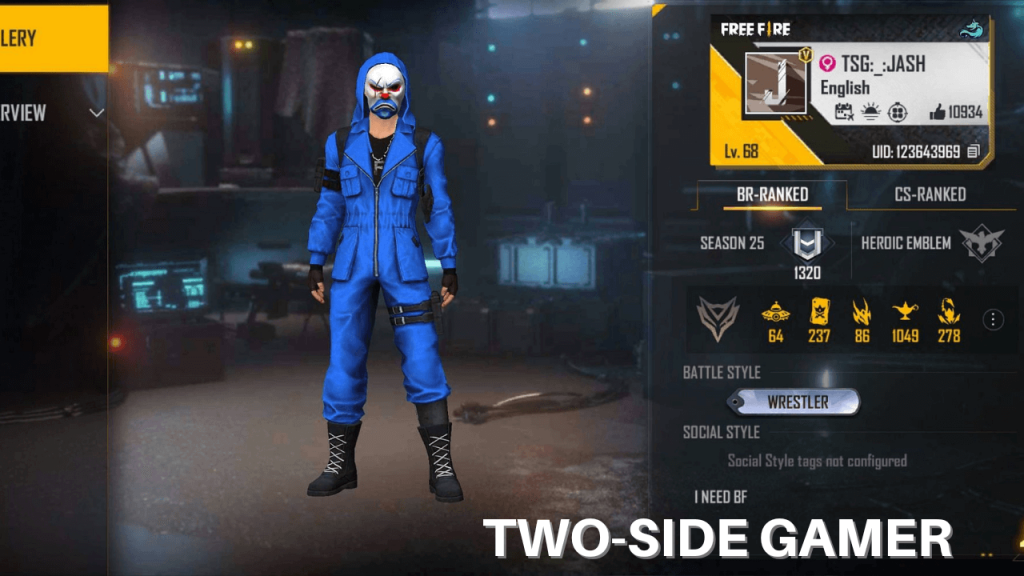 TWO-SIDE-Gamers is a YouTube channel having over 10 million subscribers and isn't run by a single person as Jash Dhoka & Ritik Jain both are doing live streaming and engaging their viewers with commentary. Primarily, They do live-stream of the game Garena Free Fire which is India's first duo gaming channel.
However, Both are cousins and started this YouTube channel together, and Ritik stated that "as soon as the Garena Free Fire was introduced, we didn't waste any time on thinking we would start live streaming; we just did it." So, If you also want to do Free Fire streaming, then do it now.
| | |
| --- | --- |
| Free Fire ID | 124975352/123643969 |
| Username | Ritikbhai99/JashBhai18 |
| YouTube | TWO-SIDE-GAMERS |
| Level | 68 |
| Total Kills | 22077 (Approx.) |
#6 Gyan Gaming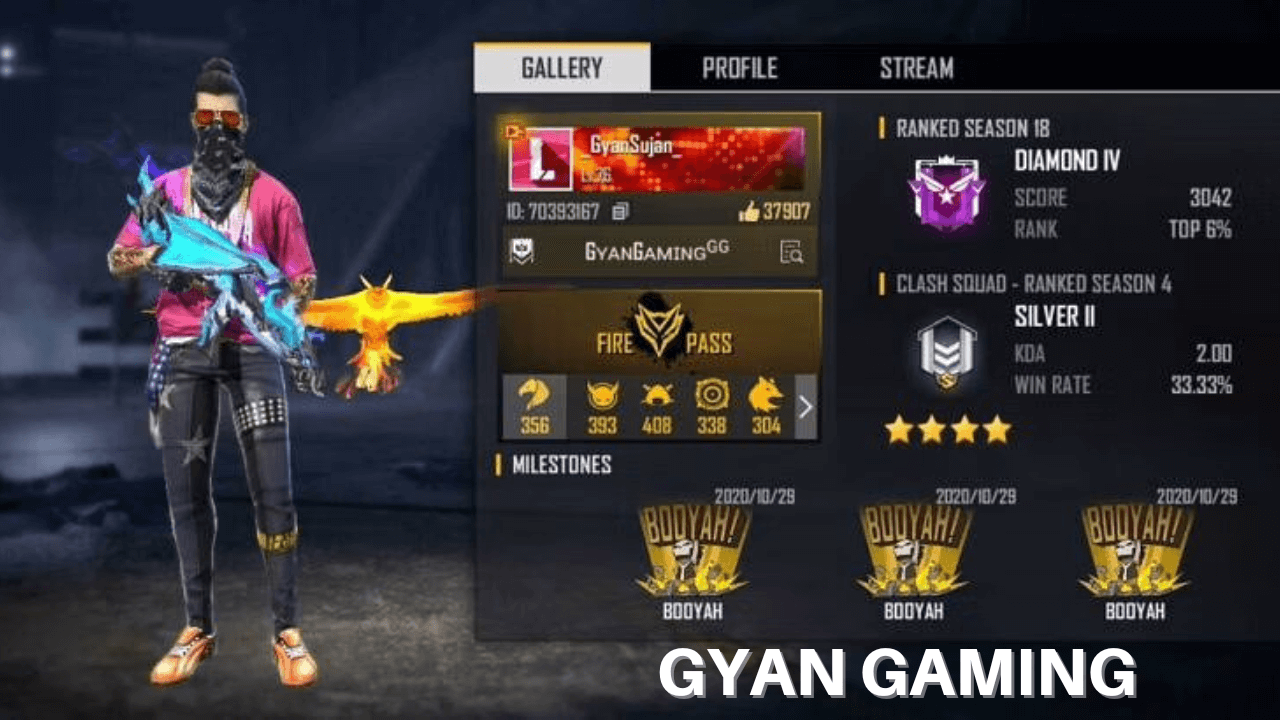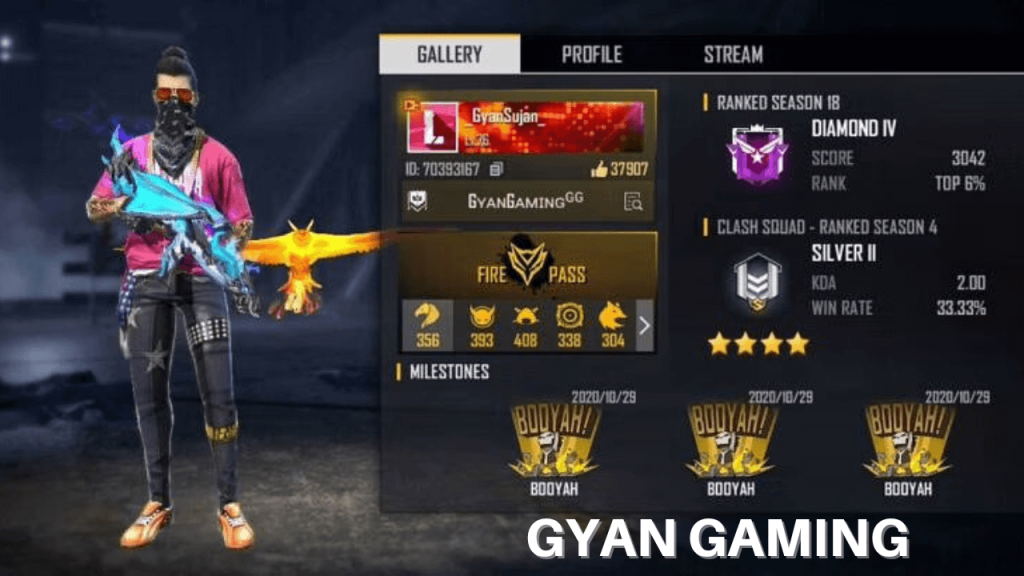 Having over 14 million subscribers on YouTube isn't easy; how much hard work and time Gyan Gaming has invested then come to this stage where he has millions of fans who are always ready to watch his live streaming.
Gyan Gaming, aka Sujan Mistri who has started his youtube channel about two-and-a-half years ago, and till now, he has uploaded over 1492 videos, and most of them are on Free Fire; even people know him as a Garena Free Fire streamer.
| | |
| --- | --- |
| Free Fire ID | 70393167 |
| Username | _GyanSujan_ |
| YouTube | Gyan Gaming |
| Level | 79 |
| Total Kills | 53453 (Approx.) |
#5 Gaming Tamizhan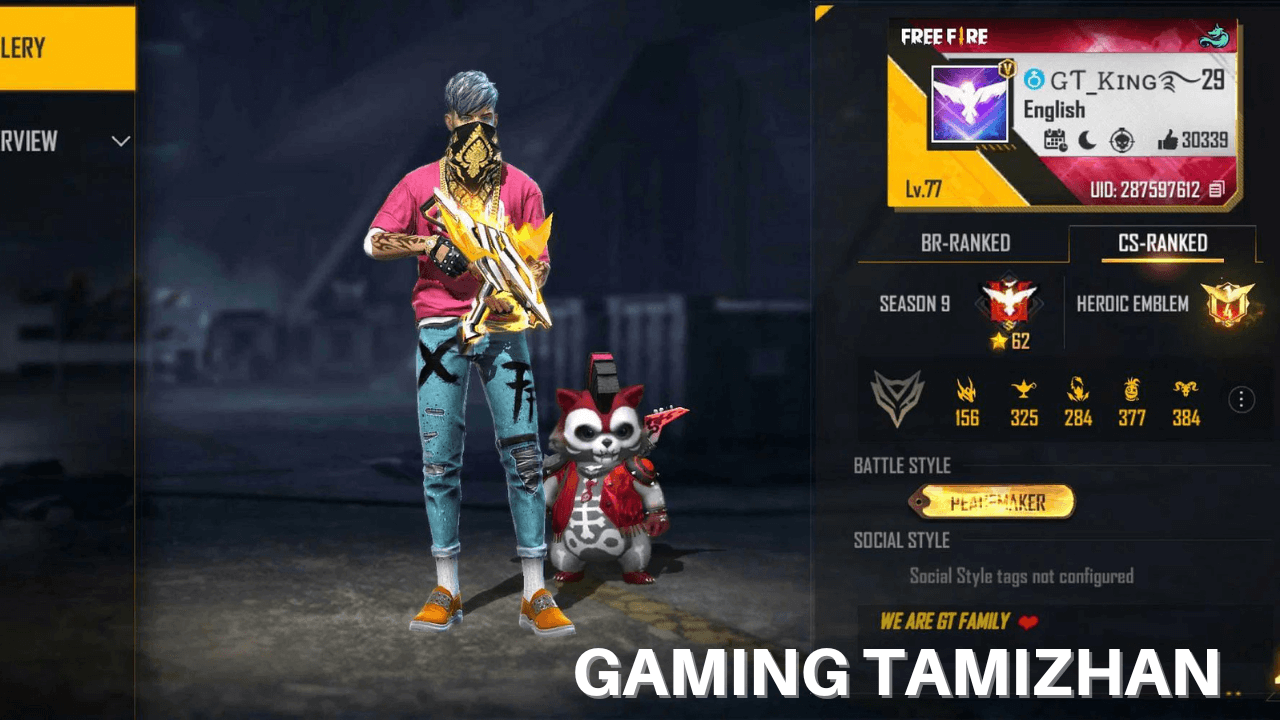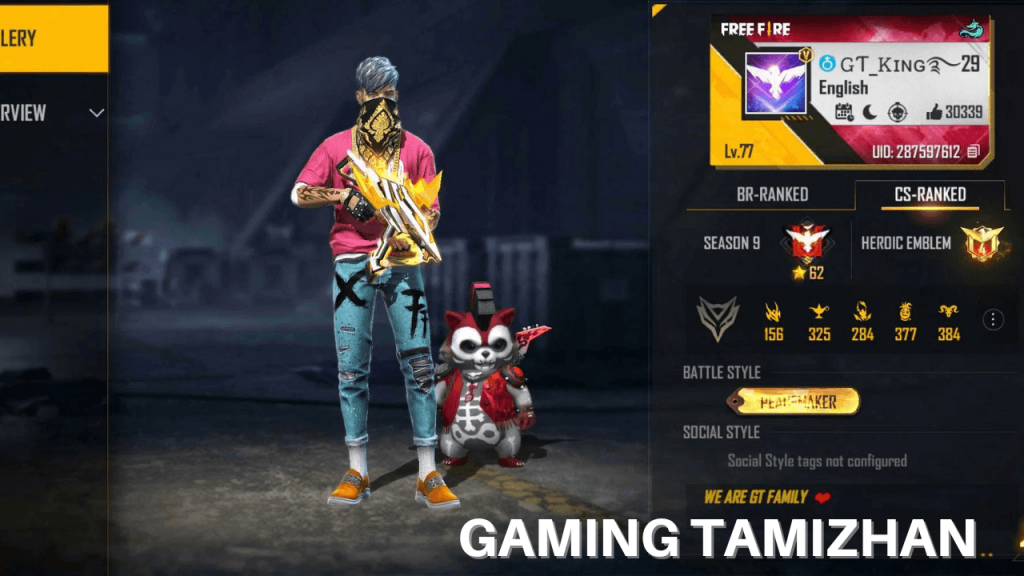 His in-game name is "GT King," which itself reflects he is the King of Free Fire, and even he is as how Gaming Tamizhan plays terrific. Ravichandra Vigneshwer, known as Gaming Tamizhan, has over 3 million subscribers on YouTube with a view count of over 290 million.
GT King has played more than 18174 squad games, among which acquired first-place in almost 3612 games with a winning percentage of 19.87%. Now, You can analyze how much time he invested in this game to improve his gaming skill. So, If you also want to be a Gaming YouTuber, then you should have to improve your skills as well. Moreover, Fans call him the King of Free Fire in Tamil Nadu as he is from Tamil Nadu.
| | |
| --- | --- |
| Free Fire ID | 287597612 |
| Username | GT_King |
| YouTube | Gaming Tamizhan |
| Level | 77 |
| Total Kills | 10257 (Approx.) |
#4 Arpan Gaming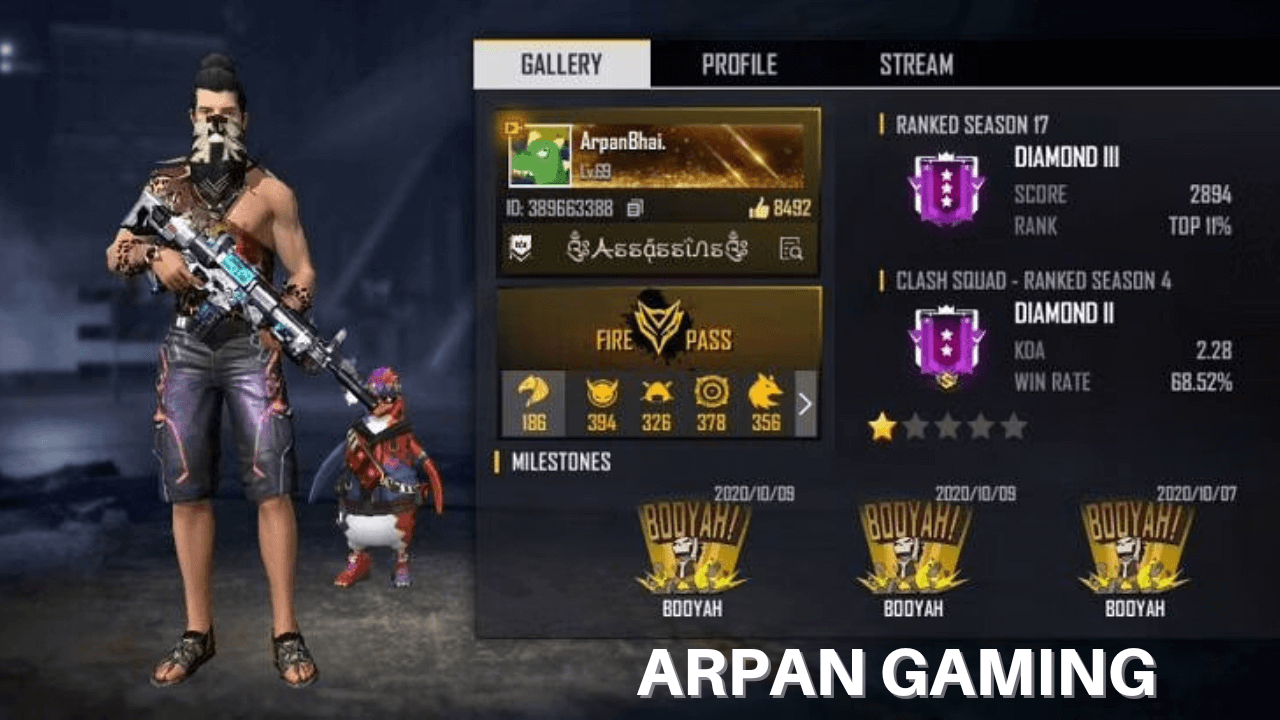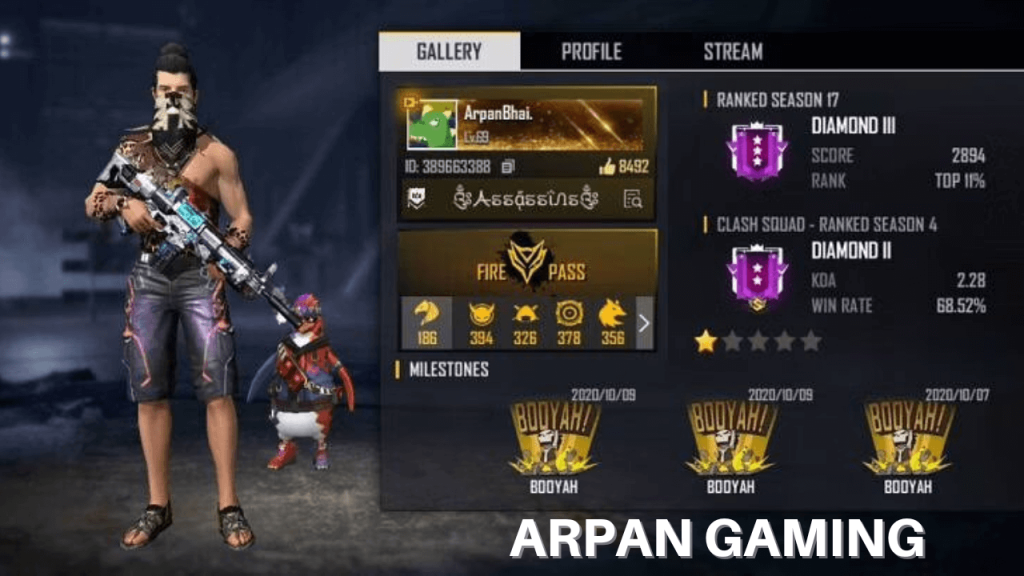 The number of Free Fire streamers is increasing daily, and they will gain visibility very soon; Arpan Gaming also started streaming a year ago, and now his YouTube channel has over 1 million subscribers. However, He used to play quite interesting and made the gameplay competitive, which made the enemy think before appearing in front of Arpan Halder, his real name.
| | |
| --- | --- |
| Free Fire ID | 389663388 |
| Username | ArpanBhai |
| YouTube | Arpan Gaming |
| Level | 69 |
| Total Kills | 22257 (Approx.) |
#3 Lokesh Gamer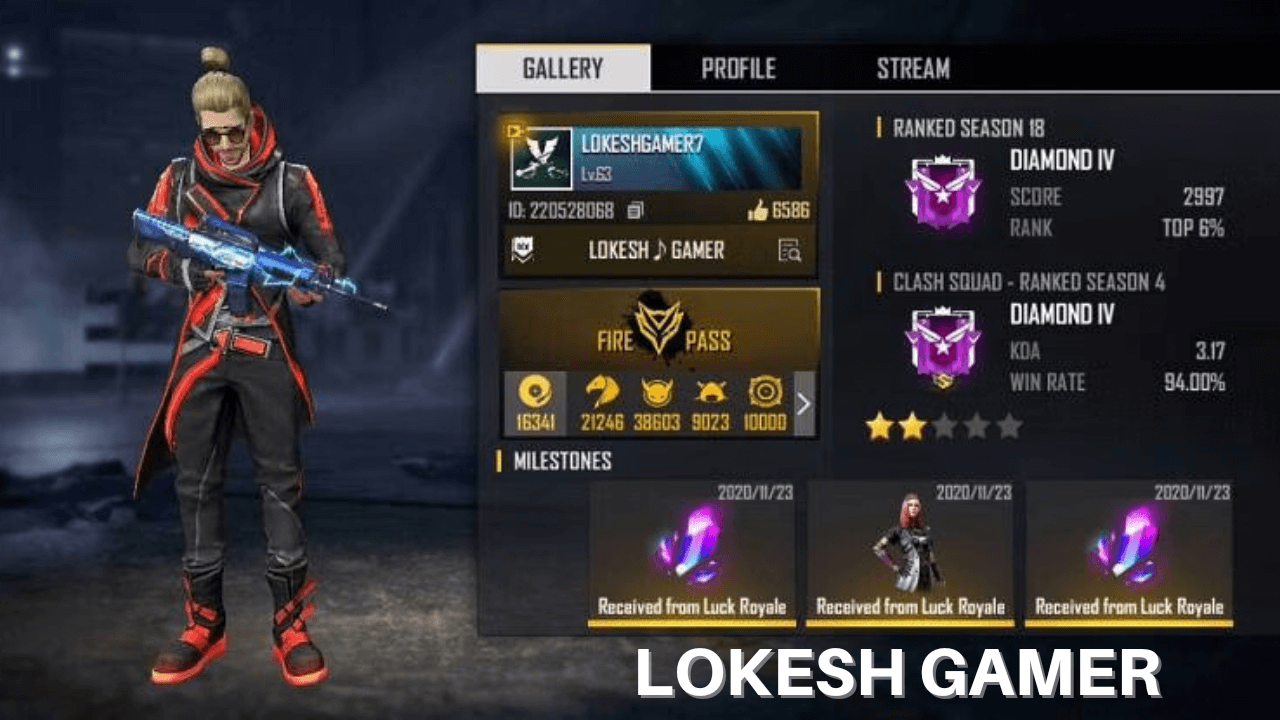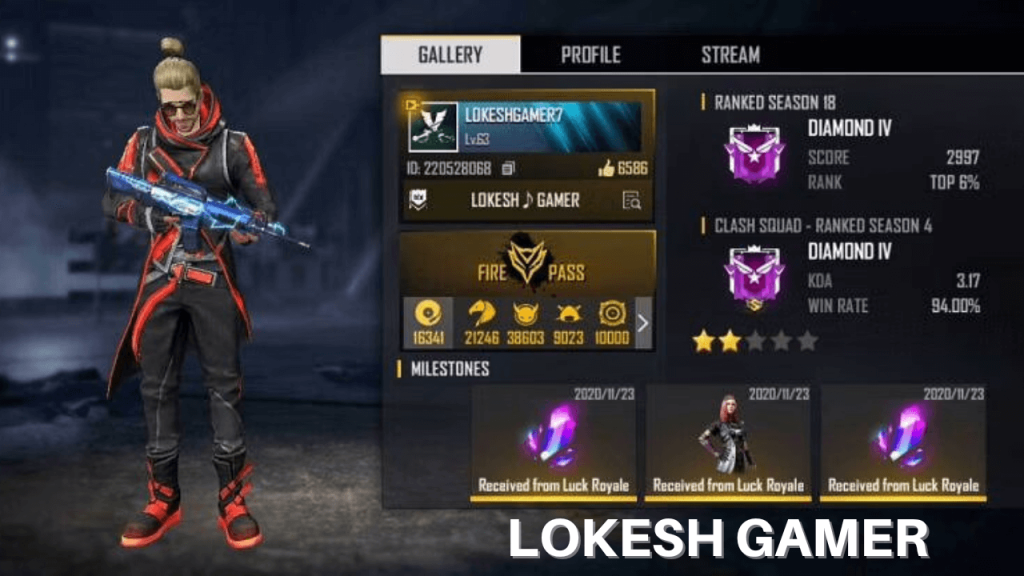 One of the most prominent figures in the Free Fire gaming community as it has over 15 million subscribers on his YouTube channel, Lokesh Gamer. However, Lokesh Raj Singh owns a few more channels where he also uploads content consistently, including LR7 Gaming, LR7 Shorts, LR7 Highlights, etc.
| | |
| --- | --- |
| Free Fire ID | 220528068 |
| Username | LOKESHGAMER |
| YouTube | Lokesh Gamer |
| Level | 63 |
| Total Kills | 16533 (Approx.) |
#2 Desi Gamers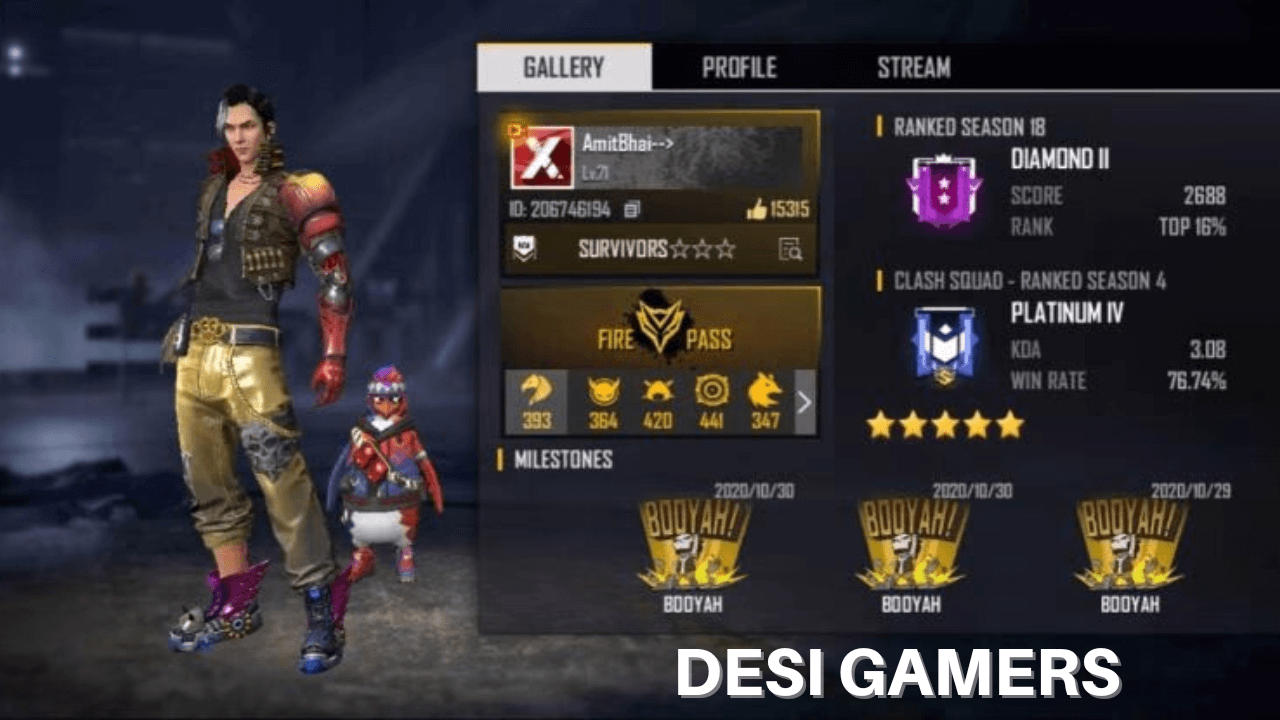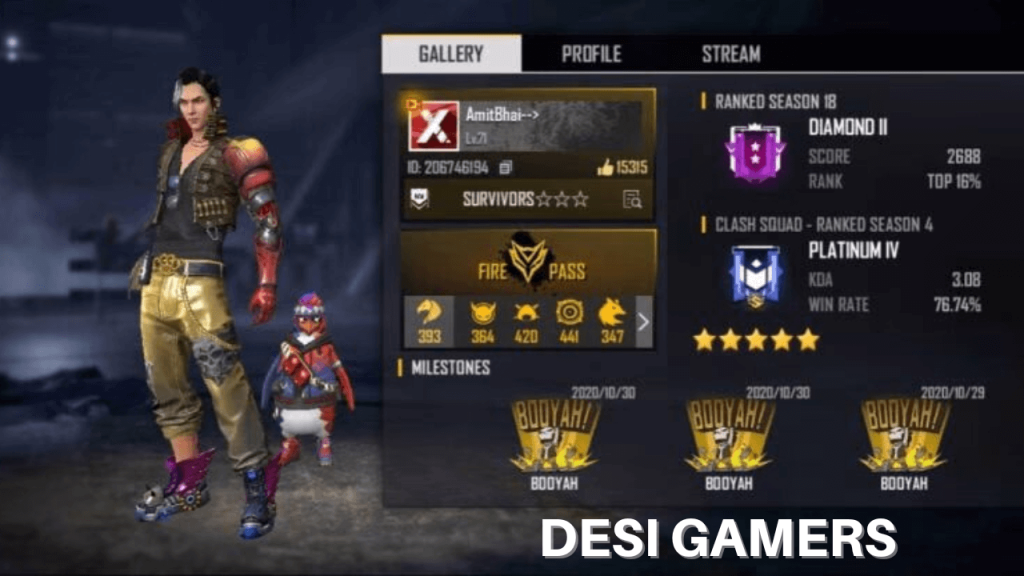 Desi Gamers, aka Amit Bhai, has over 13 million subscribers on YouTube and is playing Free Fire and Max Version. People call him the King of Ghantaghar as his strategy with the enemies in this place is awesome; that's why he didn't lose a match at the Clock Tower location. If you're a Free Fire player, you know about the Ghantaghar fight very well.
Moreover, Amit Sharma is also good at long-range shooting and is the king of Free Fire of long-range; that's the reason why people love to watch his stream even for hours without being bored.
| | |
| --- | --- |
| Free Fire ID | 206746194 |
| Username | AmitBhai |
| YouTube | Desi Gamers |
| Level | 71 |
| Total Kills | 13778 (Approx.) |
#1 Total Gaming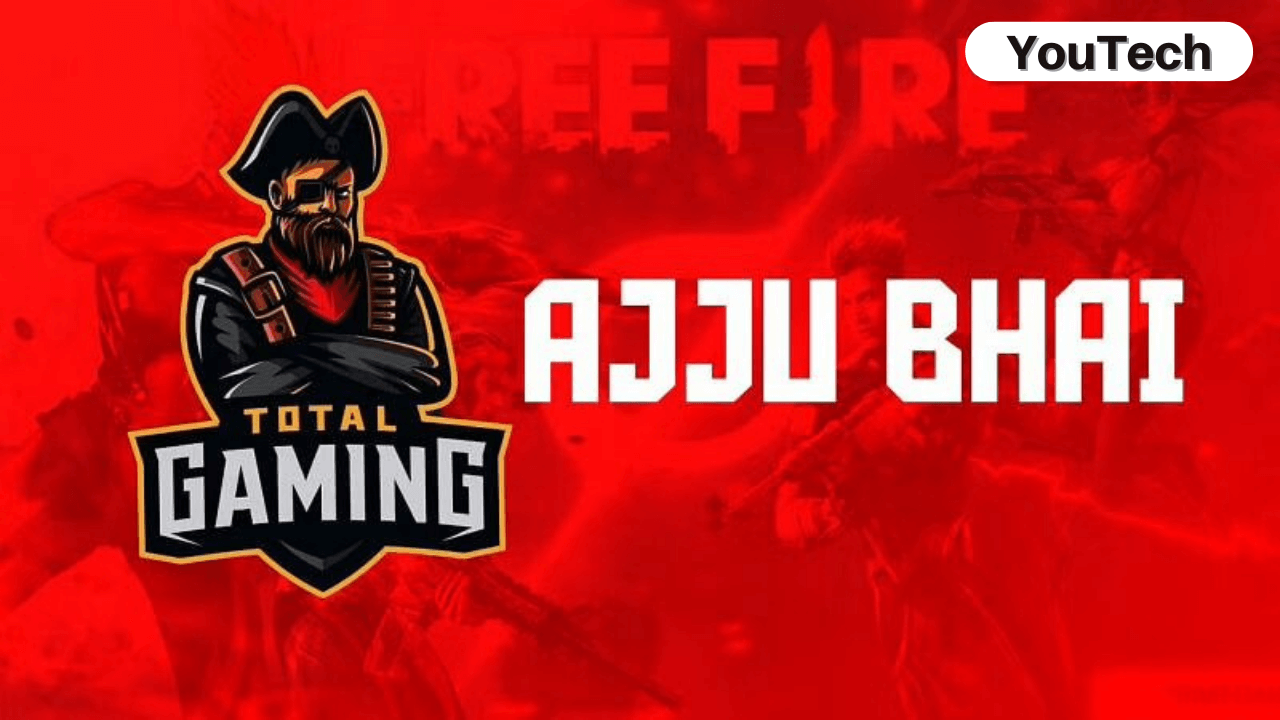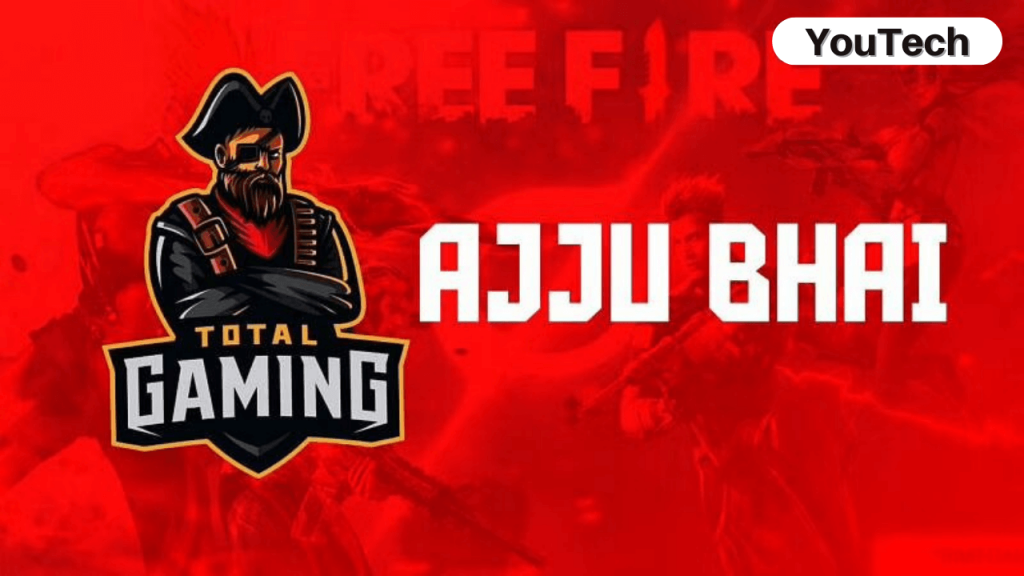 It is one of the most popular Free Fire streamers known for its insane gameplay and in-game commentary, with over 33 million subscribers on its YouTube Channel. Usually, people can easily relate to Total Gaming as he uses a slang word for his character, which is AjjuBhai that's one of the biggest reasons Total Gaming gains too many subscribers very fast.
Moreover, Ajju Bhai, aka Ajay, has been playing games for the last three years that polished his gaming skill which we can see today while watching his streaming.
| | |
| --- | --- |
| Free Fire ID | 451012596 |
| Username | ajjubhai94 |
| YouTube | Total Gaming |
| Level | 76 |
| Total Kills | 49975 (Approx.) |
Conclusion
Garena Free Fire and Max version has emerged as one of the fastest-growing battle royale games. Here, We mentioned the King of Free Fire, and there isn't a single person as the King is a dynamic position that can be acquired by improving skills. So, We had mentioned the Top 10 Kings Of Free Fire In India, not in the world. However, there are more gamers who play well, and maybe we will mention them in the future.
So, If you know about someone who needs to be mentioned in the above list and also if the data has become old, then let us know by making comments. We will update the stats but make sure that you comment with the updated stats of the player you want us to update.
According to you, let me know Who is the King Of Free Fire?